Just before the year comes to a close, TikTok has unveiled their list of notable Filipino content creators who made a mark on the video hosting service app this 2022.
Leading the list of five breakthrough stars is Kapamilya actor Joshua Garcia (username: @iam.joshuagarcia), who made 2022 a year that is truly #ForYou.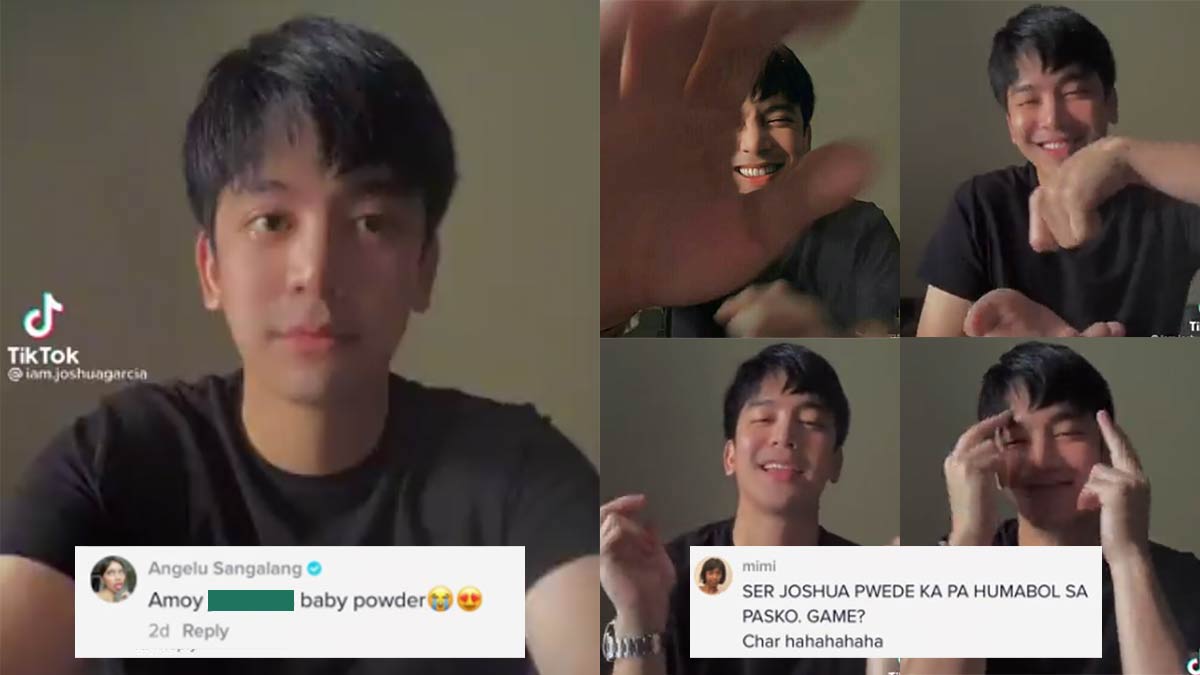 The Darna leading man made waves on social media when he uploaded his first-ever TikTok video on December 20, 2021. In just a few hours, Joshua raked in half a million followers on the platform.
His first video, in which he showed off his own take on the "Ginseng Strip 2002" challenge, now has over 143.6 million views and over 10 million likes. While it was a smashing hit among his followers, it was in 2022 that Joshua proved he is not a one-hit-wonder.
On one occasion, fans hilariously pleaded with Miss Universe 2015 Pia Wurtzbach to fall in line after she commented on Joshua's TikTok video.
Joshua's TikTok posts also caught the attention of international rapper Nicki Minaj, and social media influencer and artist Bella Poarch. Both left comments on his posts and were met with the same reaction from the netizens.
Read also: "Tapos na pila"? Joshua Garcia's video of Bella Racelis fuels romance rumor
BREAKTHROUGH STARS
Meanwhile, it was thanks to TikTok that Mona Gonzales (username: @mngnzls) achieved her dream of becoming a recording artist.
Her videos went viral on the platform and led to her becoming a P-Pop star, with the release of her debut single "Always Remember" on November 29, 2022.
Her debut single's release and being one of the Philippines' breakthrough stars in 2022 are among Mona's milestones for the year.
The rest of the groundbreaking TikTok stars on the list capitalized on trends, humor, and kilig.
Christianmae (username: @christianmae22) proved that educators like to keep up with trends too, while Stefano Devere (username: @_itsstefano_) made netizens laugh with creative memes and humor.
Last but not least, the romantic skits of Roce Ordoñez (username: @incorrectlyroce) spread kilig vibes all around.
TikTok Philippines revealed their list of Breakthrough Stars during the Creators' Night held last December 18, 2022, at Whitespace Events Place in Makati City.
Aside from the Breakthrough Stars, TikTok Philippines named Franz Caparas Miaco and Janio Cañazares as Creators of the Night for their dab OOTDs at the party.
OTHER RECOGNITIONS
Here are other content creators who left an impact in the TikTok universe this year.
#ForYou Faves: Popular videos of 2022
@herony - John Heron Sandoval thanked his followers with content showcasing his flair for creative transitions.
@genboy3 - Security guards kept up with the dancing trends too!
@nianaguerrero - Sibling duo Niana and Natalia wowed us with their dancing skills.
@adbeatofficial - Beatboxing couple showcased their skills with their rendition of Zoom.
@iam.joshuagarcia - Famous actor Joshua Garcia led the "But You Know I Stay" trend.
The Playlist: Popular songs that soundtracked 2022
@eyavanana - Lipsynced to "Andrew Ford Medina" by Andrew E.
@madashnn - Danced and lipsynced to "Paro Paro G" by DJ Sandy
@ser.geybin - Performed a dance parody of "Diwata" by Sam Concepcion
@nianaguerrero - Danced to Willow Smith's "Wait a Minute"
Only on TikTok: Trends powered by creative effects, sounds and other TikTok features
@mngnzls - Made a duet with music producer who made a remix of her original sound.
@bini_sheena - Used Zoom effects to do the Zoom dance challenge.
@blythe - Entertained us with funny skits using popular sounds.
@ser.geybin - Made us laugh with a funny parody of popular dance trends.
The Hitmakers: Most viewed artists on TikTok
@mngnzls - Showed off her singing skills with a cover of a popular Latin song.
@adbeatofficial - Showcased their awesome beatboxing skills.
@marriescabral21 - Discovered she sounded like Justin Bieber when singing "Favorite Girl."
@monicaxbianca - Made a beautiful cover song of "Muli" by Ace Banzuelo.
@kuyamagik - Produced a mashup remix of Spin Back x Cardboard Box (Happi).
Eats on Repeat: #FoodTok and other favorite foodie trends
@hazelcheffy - Brought humor to her cooking with funny voiceovers.
@connhcruz - Took a different take on recipes with ASMR.
@franziee_v - Made entertaining recipes with creative audio match cuts.
@abigailfmarquez - Made us all hungry with a delightful take on creating the ultimate leche flan.
@jujumaoo - Had our mouths watering with satisfying recipe videos using fast cuts and ASMR.
timeless content
These content creators made their mark on TikTok with lessons you can take into 2023 and beyond!
TikTok Taught Me / Learn on TikTok: Lessons and life hacks powered by TikTok
@abigailfmarquez - Whip up Pinoy-favorite snacks like peach mango pie at home!
@connhcruz - Impress your loved ones with a feast during the holidays.
@kimpeeee - Follow a quick and easy tutorial on the latest dance trends.
@craevingsbykumarae - Level up your classic Filipino desserts with simple ingredients!
@alexisvines2006 - Channel your inner master chef with food hacks.
READ MORE: