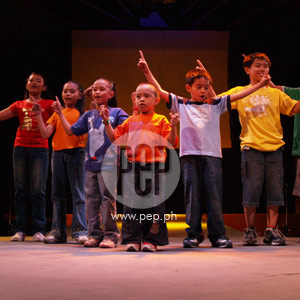 ---
Summer may be hot and sweaty but it also promises plenty of fun-filled days. The Philippine Educational Theater Association (PETA) offers summer workshops that make creative learning totally enjoyable.
Play with the thespians of PETA. Discover your innate talent and develop your skills. Meet new friends and learn to express yourself through the wonderful world of make-believe. Live your artistic life and invite your family and friends as you proudly show your talent on stage.
Enrollment is ongoing! Here are the courses you may choose from:
Children's Theater 1 (Ages 5-8) and Children's Theater 2 (Ages 9-12)
April 9 - May 3 M-W-F 8am - 12nn
Kids will experience fun in music, movement, dance, poetry and puppetry through drama improvisation coupled with games. They will enjoy processes that develop their imagination and self-confidence. A performance showcase by the participants will be their final activity.
Children's Theater Production (Ages 9-12)
April 7 - May 2 M-W-F 8am - 12n
Kids will experience creating and telling stories using their own imagination. They'll also learn to interpret characters from folk or fairy tales and add them to their own stories, which they will present onstage as their final activity.
Teen Theater 1 (Ages 13 - 16)
April 15-May 10 Mon-Fri 1-5pm
Articulate youth power through the unique PETA Integrated Theater Arts (ITA) approach—creative drama, creative sounds and music, creative writing, creative body movements and dance, visual arts and group dynamics. Channel youthful energies into something creative and enjoyable as different styles of theater and media are discovered. Young people will get to show-off their talents as they mount an original piece on youth issues and concerns.
Production Workshop for Teens (Ages 13 - 16)
April 15-May 3 Mon-Fri 1-5pm
Journey into a series of artistic discovery and explorations from Asian and Western traditions to the Philippine Theater experience. Work on different genres used in mounting theatrical production pieces reflective of your artistic talents and concerns.
ADVERTISEMENT - CONTINUE READING BELOW
Theater Arts 1 (Ages 17 and up)
April 15 - May 10 M-W-F 1-5pm
Plunge into a unique artistic experience by acquiring fundamental knowledge, skills and attitudes in theater. Experience the PETA Integrated Theater Arts (ITA) and focus on relevant themes in creating your own final production.
Basic Acting (Theater for Artistic Development - TAD 1) (Ages 17 up)
April 9 - May 10 M-W-F 6-10pm
Ground yourself in the basics of becoming a stage actor. Experience different schools of acting and unleash the thespian in you in a challenging end-of-course performance showcase
Creative Musical Theater (TAD 2) (Ages 17 up)
April 15 - May 10 Mon to Fri 6-10pm
Sound out your innate talents in musical theater—voice, composition, movement, dramaturgy and Philippine Musical forms. Perform the original musical production of your class as a graduation piece.
Creative Dance Theater (TAD 3) (Ages 17 up)
April 15 - May 10 Mon to Fri 6-10pm
Explore body movement as a medium for artistic expression. Learn the basics of movement, maximize these to tell stories using dance forms and create an original dance theater performance with your classmates for your production showcase.
Production Design (TAD 4) (Ages 17 up)
April 9 - May 3 M-W-F 6-9pm
An introduction to the elements and arrangements of design used cultural and artistic events. Zoom in on design in theater history, scenic design, costumes and properties and lighting designs and techniques. Showcase your creation in an exhibit at the end of the course.
PETA also offers courses for Educators and Cultural/Developmental Workers:
Community Theater (Theater for Development - TFD 1)
May 12 - 16 Mon - Fri 9am - 5pm
Theater for Advocacy (TFD 3)
May 12 - 16 Mon - Fri 9am - 5pm
Creative Pedagogy (Theater- in- Education - TIE 1)
May 12 - 16 Mon - Fri 9am - 5pm
Asian Theater (TIE 2)
May 12 - 16 Mon - Fri 9am - 5pm
For inquiries, call 4100821, 7256244, or 0917-8154567.
ADVERTISEMENT - CONTINUE READING BELOW
Venue: PETA Theater Center, No. 5 Eymard Drive, Quezon City (behind the Quezon City Sports Club)