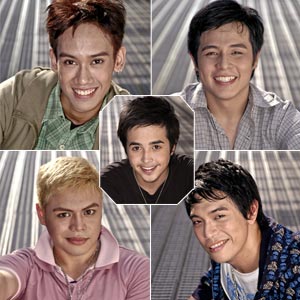 ---
These guys sing sweet serenades, flirt, and bust out jaw-dropping hip hop moves—all while praising the Lord! And, they're all set to rock audiences of all denominations right here in Manila.
Anyone who's ever lived through or squealed over The Backstreet Boys, Take That, or 'N Sync is in for a treat as Repertory Philippines stages one of Off Broadway's most enjoyable musicals to date, the winner of the 2005 Outer Critics Circle Award for Best Off-Broadway Musical, Altar Boyz.
This musical weaves a deliciously satirical story about four young heartthrobs—Matthew, Mark, Luke, and Juan—who dream of making it on MTV as a Christian boy band. Together with an additional fifth member—their Jewish friend Abraham—the Altar Boyz travel the world to pursue their ultimate mission of saving souls.
With music composed by Gary Adler of Avenue Q fame and Michael Patrick Walker, Altar Boyz promises audiences a rip-roaring good time.
ADVERTISEMENT - CONTINUE READING BELOW
Acclaimed director Chari Arespacochaga—the brains behind theatrical successes in Manila of Honk!, Doubt, and Avenue Q—has assembled an amazing group of fresh talents to leave audiences swooning and screaming for more.
PJ Valerio takes on the role of Matthew. PJ is no stranger to the stage or screen. PJ showed his acting skills in musicals like First Name and STAGES' High School Musical, where he played the scene-stealing role of Ryan Evans. His good looks combined with his natural dramatic ability landed him the lead role of Romeo in Villa Teatro's production of Romeo and Juliet.
Nominated as the Best Celebrity Talk Show Host at the PMPC's 21st Star Awards for Television, PJ is not one to rest on his laurels. He currently can be seen honing his skills as a host and a performer on GMA-7's Walang Tulugan with Master Showman and ABC-5's weekly drama T.e.e.n.s (Ang Mundo Natin).
ADVERTISEMENT - CONTINUE READING BELOW
Another member of the cast moving at breakneck speed through the world of stage and screen is Red Concepcion, who plays the role of Mark. Red started the year with two critically acclaimed theater productions, Hamlet for Repertory Philippines, and Orosman at Zafira for Dulaang UP. Red got his first taste of the theater in Trumpets' Honk!, after which, he went on to appear in a string of musicals for Trumpets and Repertory Philippines. He was also an accomplished dancer for Kaloob: Philippine Music and Dance Ministry and has appeared as a lead actor in films for Sword Productions.
Years ago, cast member Reuben Uy (or Ryu as he likes to be called) stopped appearing in the theater to pursue a career with a boy band. Now, years later, he's back on stage doing a musical about a boy band. It's one of those great little pieces of irony that gets Ryu excited about playing the slick and tough Luke. Prior to his days in the real world of the boy band, Ryu essayed memorable roles on stage like Frank Shepard, Littlechap, Ben Stone, and Hysterium.
ADVERTISEMENT - CONTINUE READING BELOW
Adding some Latin spice to the group is the character of Juan, played by Reb Atadero. He is an incoming B.S. Management senior at the Ateneo de Manila University, and considers himself lucky to have theater break the monotony of dealing with balance sheets and standard deviations. Bitten by the theater bug in his sophomore year, Reb appeared in productions for Ateneo Blue Repertory like Hope for the Flowers, Stages of Love, and the Asian stage premiere of High School Musical. Having enjoyed his experience as Robbie Hart in Repertory Philippines' summer workshop production of The Wedding Singer, Reb is more than thrilled to have Altar Boyz as his first professional show.
Chevy Mercado completes the cast, playing an unlikely member in this Christian boy band, the nice Jewish boy, Abraham. Chevy is a stage veteran, now celebrating his tenth year in the theater at only 23 years old. At 13, he made his stage debut as Edmund in The Lion, The Witch, and The Wardrobe for Trumpets in 1998. In 2002, he portrayed the role of the older brother, Peter, in the same production. For Rep, he has been in productions such as Oliver, Our Town, and Jack and the Beanstalk. For Trumpets, he has performed in shows such Honk! and The Little Mermaid. An all-around performer, Chevy is also chalking up movie and television credits and is an accomplished DJ and events host.
ADVERTISEMENT - CONTINUE READING BELOW
The "Boyz" are hitting the stage this April with a spectacular creative team behind them. Jason Zamora of the Manoeuvres lends his street dance skills to the project and churns out high-octane choreography. Accomplished thespian Felix Rivera works behind the scenes, this time as vocal coach, with pianist Jojo Malferrari taking on the musical direction. Faust Peneyra's trendy costumes perfectly complement Tuxqs Rutaquio's inventive set design. Rep veteran Martin Esteva provides the lighting design, and expert lensman Jojit Lorenzo captures all the boy band action up close.
Get ready to be an Altarholic!
Altar Boyz plays at the Onstage Theater Greenbelt 1 from April 4 to 27, 2008. Shows are scheduled on Fridays and Saturdays at 8 pm with Saturday and Sunday matinees at 3:30 pm. Tickets are priced at Php550, Php350, and Php 250. For tickets, reservations, and information call the Rep office at 8870710 or Ticketworld at 8919999.

You may also log on to www.repertory-philippines.com or www.ticketworld.com.ph. Tickets are also available at the REP office located at 2316 Pasong Tamo Extension, Makati City and at the gate before every performance.
ADVERTISEMENT - CONTINUE READING BELOW