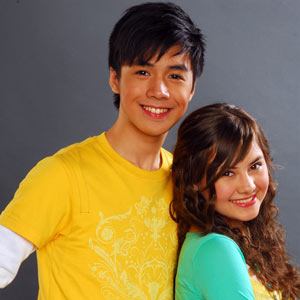 ---
Trumpets Playshop, a group that has been honing young talents through various arts workshops, is celebrating its 15th year this summer. Looking back at all its fruitful years, Playshop has earned the loyalty of its "regulars" such as Sam Concepcion, Cheska Ortega, Micah Pineda, and Mikki Villa. What keeps them coming back every year is no longer a secret.
Sam Concepcion, now 15, started attending Playshop classes when he was just 8. He is now a STAGES and Star Magic talent and has appeared in numerous commercials and shows. He has released his first self-titled album under Universal Records. Sam is thankful to Playshop for helping him enter mainstream entertainment.


"Playshop has taught me and is still teaching me how to have longevity as a performer whether on stage or on television," acknowledges Sam. He cannot forget the time he learned the dictum, "Practice makes Permanent." Sam explains, "Practice doesn't make everything perfect. But I always remember that if you keep on practicing one thing, whether you have the right or wrong technique, that's what you'd keep on doing. That's why I value my lessons at Playshop because they show me the right techniques."
ADVERTISEMENT - CONTINUE READING BELOW
Cheska Ortega, STAGES and Viva's new artist, started going to Playshop when she was just in grade school. She did not even like theater back then. She was an incurably shy kid and would not even talk in class, but not after the summer she went to Playshop.
Looking back, Cheska states, "Playshop made me realize that there's no need to be shy at all, but instead, I should shine." At 15, Cheska has played Gabriella in the stage production of Disney's High School Musical; has starred in several stage plays and music videos; and will come up with her own album very soon.
Micah Pineda, an accomplished thespian who is taking up Theater Arts in the University of the Philippines, has much to say about Playshop's role in her life. "It has railroaded my life. I'm in UP taking up Theater Arts because Playshop made me realize what I want to become—an artist."
ADVERTISEMENT - CONTINUE READING BELOW
Mikki Villa, a pioneer of Playshop Alabang, and who has continuously taken part in numerous plays and musicals, landed into Playshop by fate. "I just knew one day that my sister enrolled me. I grew to love it and enrolled every summer since then. Playshop's schedule is so flexible that I still have time to do other stuff. I guess the key to enjoying fully is to be open-minded, be open to learn."
All four of them admit to being "scared" during the first day of their workshops in Playshop. "Not that the teachers are scary, but it is more like going in to your class in school for the first time, you don't know who you'll meet," explains Mikki.
But the four of them almost broke into a chorus in saying that the teachers of Playshop are amazing. "They are so willing to pass on their knowledge and they teach you how to respect the craft," emphasizes Sam.
ADVERTISEMENT - CONTINUE READING BELOW
While all four claim that Playshop has been life-changing in a positive way, they are quick to note that expectations should be leveled. Playshop does not promise that everyone will hit the high notes or be able to kick their foot over their head or make its students cry with a dramatic interpretation. But each summer workshop participant will be required to stretch their limits. Young as they are, since Playshop admits kids as tender as four years old, they learn to work as artists—testing ideas and techniques, finding what does work and what does not work. In Playshop, there is room for singers who don't dance, actors who don't sing and dancers who don't act. As they say, the biggest room in the world is room for improvement.
Trumpets Playshop opens more branches this year. The summer workshops are available at The Podium, Shangri-La Plaza Mall, Alabang Town Center, Glorietta, My Study Partner in Katipunan and Fully Booked at The Fort from April 2 to June 1.
ADVERTISEMENT - CONTINUE READING BELOW
For inquiries, call 636-2842. You may download the complete list of courses and schedules at http://www.trumpetsplayshop.com/.