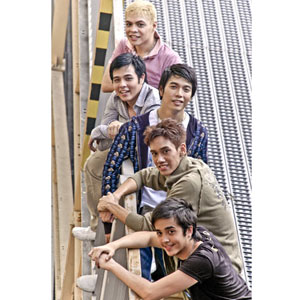 ---
As soon as you see the Altar Boyz Confession Box at the lobby of Onstage Theater in Greenbelt 1, you know you're in for a fun ride. If something is bothering your soul, feel free to confess it and the Christian boy band will pray over it during the show. Once you got that out of your system, that will be a great help to the five boys who want to save souls using the glory of sweet pop music.
Repertory Philippines stages Altar Boyz—the winner of the 2005 Outer Critics Circle Award for Best Off-Broadway Musical—until April 27, 2008.
On the last day of the Raise the Praise world concert series, the Altar Boyz have decided to spread their brand of evangelical humor in Manila. This Christian boy band is composed of sacristan boys turned pop idols: Matthew (PJ Valerio), Luke (Reuben Uy), Mark (Red Concepcion), and Juan (Reb Atadero). When their Jewish friend Abraham (Chevy Mercado) is added to the bunch, you can expect a riotous musical that will have you laughing to high heavens.
The Altar Boyz use rap, hip hop, and pop music to entice viewers to look for the miracle within. Telling Biblical stories has never been this hip and cool before.
When Luke (Reuben) raps about the miracle of Cana and the calling of the apostles, you'll be blown away by the catchy lyrics and his awesome break dancing skills. And when the flamboyant character Mark (played by Red) extols audience members to come out of the closet and admit that they're, uhm, Catholic, just go ahead and do it. Just say it with pride, or as Mark says in his song, "I'm Catholic—with a capital C!"
ADVERTISEMENT - CONTINUE READING BELOW
Aside from featuring songs that will have you rolling on the floor laughing, Altar Boyz also highlights touching compositions that remind us of God's presence in our modernized world.
In the song titled "Jesus Called Me On My Cell Phone," there are humorous yet uplifting lyrics that go: Jesus called me on my cell phone / No roaming charges were incurred / He told me that I should go out in the world / And spread His glorious word.
And the clincher goes: He beeped me! (He beeped me) / He faxed me! (He faxed me) / He emailed my soul!
With his stage presence and perfectly chiseled looks, PJ Valerio has the makings of a matinee idol. He makes it all look so easy but we know it takes a lot of practice to be able to hit the high notes after engaging in energetic dance numbers, which are rather plenty in this concert-within-a-play.
The last time we saw Reb (who plays the Hispanic character Juan), he had straight hair and was fair-skinned. Imagine our surprise when he stepped on stage with curly hair and tanned skin (after the performance, he admits that he had his hair permed for two hours to achieve the look). Another member of the Altar Boyz, Red got his hair bleached to fit the role of the flamboyant Mark.
Chevy Mercado, who played the Jewish guy, was a revelation. He showed incredible nimbleness on the dance floor and actually turned out to be the "good guy" in the play.
ADVERTISEMENT - CONTINUE READING BELOW
As you're watching the play, don't neglect to check out the Soul Sensor, the device that monitors the number of souls yet to be saved by the pious pop group.
Altar Boyz will be performed at the Onstage Theater Greenbelt 1 from April 4 to 27, 2008. Shows are scheduled on Fridays and Saturdays at 8 pm with Saturday and Sunday matinees at 3:30 pm. Tickets are priced at Php550, Php350, and Php250. For tickets, reservations, and information call the Rep office at 887-0710 or Ticketworld at 891-9999.
You may also log on to www.repertory-philippines.com or www.ticketworld.com.ph. Tickets are also available at the REP office located at 2316 Pasong Tamo Extension, Makati City and at the gate before every performance.