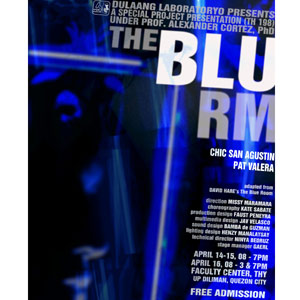 ---
Theater students from the University of thePhilippines-Diliman will be presenting a 10-act play that uses a genre knownas the digital theater.
The University of the Philippines Dulaang Laboratoryo underthe Department of Speech Communication and Theater Arts serves as a trainingground for theater students. Graduating students enrolled in their thesissubject present The Blu Rm. The play in 10 intimate acts provides a new perspective on love, sexuality, lust, and desire.
The play is adapted in Filipino by the cast members (ChicSan Agustin and Pat Valera) under the direction of Missy Maramara.
Set in a contemporary world, The Blu Rm features twoactors who are searching for truth in every encounter. This is one of the fewplays that use an unconventional style known as the digital theater.
The Blu Rm will run from April 14-16, 2008 at 7 pm atthe Faculty Center, Teatro Hermogenes Ylagan, UP Diliman, Quezon City.
For inquiries, please contact the production manager at0916-7387254 or landline 258-1986 or email raymondie_2@yahoo.com
ADVERTISEMENT - CONTINUE READING BELOW
FREE ADMISSION.