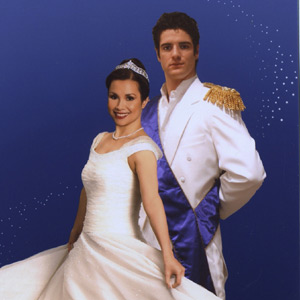 ---
From July 29 to August 24, Lea Salonga will captivate audiences as she plays the beloved title role in the musical production of Rodgers and Hammerstein's Cinderella. For the Manila leg alone, the production costs are estimated to reach US$2 million, according to producer Marc Routh of Broadway Asia Entertainment.
Cinderella will entertain kids and adults alike for several weeks in the Philippines before it moves to other countries—Hong Kong, China, Taiwan, Singapore, Malaysia, Thailand, and Korea.
This hit Broadway play heralds Lea's return to theater after her run as Fantine in Les Miserables staged in March last year.
Cinderella also marks yet another addition to Lea's impressive array of theater credits, which include Into the Woods, My Fair Lady, The Goodbye Girl, They're Playing our Song, Grease, The Fantastics, Paper Moon, The Bad Seed, The Sound of Music, Annie, Flower Drum Song, and of course, Miss Saigon.
Her portrayal of the lead role as Kim in the 1991 production won her a Tony Award for "Outstanding Performance by an Actress in a Musical" as well as an Outer Critics Circle Award, a Drama Desk Award, and the Laurence Olivier Award.
ADVERTISEMENT - CONTINUE READING BELOW
Joining Lea on stage as the dashing Prince is Australian-born actor Peter Saide who was most recently seen as Tony in Saturday Night Fever. His other credits include being a principal vocalist in Sir Andrew Lloyd Webber's latest review Masquerade and in a recent adaptation of Sir Cameron Mackintosh's Hey, Mr. Producer!
Other members of the creative team include Mark Waldrop for the play's book, Renato Balestra for wardrobe, David Gallo for scenic design, Vince Pesce for choreography, Michael Waters for sound design, and Chari Arespacochaga for associate direction.
SYNOPSIS. Treated like a slave by her stepmother and stepsisters Portia and Joy, Cinderella seeks refuge in her own little corner of the house, where she daydreams of a better life. Meanwhile, the King and Queen prepare for a formal ball they are giving in order to find a wife for their son, the Prince. The Prince wonders when he will find his true love, and the King assures him that lasting love will come to him.
ADVERTISEMENT - CONTINUE READING BELOW
On the night of the ball, Cinderella fantasizes about attending. Her godmother teases her for harboring impossible dreams, but Cinderella is miraculously provided with a beautiful gown and a fancy carriage, proving to her godmother that dreams can indeed come true. Cinderella leaves for the ball in her new dress and carriage, but she is warned that the magic will only last until midnight.
At the ball, the Prince invites a mysterious beauty to dance, unbeknownst to him and everyone at the ball that it is actually Cinderella. Portia and Joy glare and jealously criticize the Prince's choice of women. Cinderella and the Prince marvel that they have fallen in love after knowing each other for only ten minutes. As midnight is about to strike, Cinderella flees, leaving a puzzled prince and one of her glass slippers behind.
The next day, Cinderella dreamily recalls her adventure at the ball. Portia and Joy, believing that their stepsister can only be imagining the ball, marvel at her accuracy. A Herald announces the arrival of the Prince, who, armed with the glass slipper, has begun to search far and wide for his mysterious love.


Watch the timeless, magical tale of Cinderella as directed by Filipino director Bobby Garcia.
ADVERTISEMENT - CONTINUE READING BELOW
Tickets for Cinderella are available at all selected major National Book Store branches, selected major Robinsons Department Stores, Ayala Malls, Greenbelt 1, Glorietta 1, and at the TicketWorld office or at their website www.TicketWorld.com.ph.
Ticket prices range from P500 to P7,000. For inquiries and reservations, call 891-9999.
Performances: July 29 - August 24, 2008
Venue: Cultural Center of the Philippines Main Theater, CCP Complex, Roxas Blvd., Pasay City