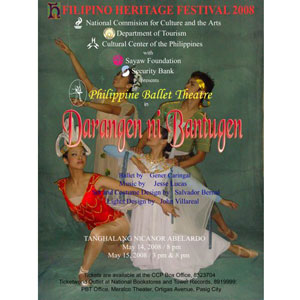 ---
In celebration of National Heritage Month, the Philippine Ballet Theater will present the Maranao epic The Darangen ni Bantugen. It has been cited as one of the 43 declared UNESCO "Masterpieces of Oral and Intangible Heritages of Humanity." The Darangen ni Bantugen will be performed by the Philippine Ballet Theater on May 14 and 15 at the Tanghalang Nicanor Abelardo of the Cultural Center of the Philippines.
This ballet will be choreographed by Gener Caringal, music provided by Jesse Lucas and set and costume design by National Artist for Theater and Design Salvador Bernal.
The Darangen ni Bantugen consists of 17 parts and narrates the history of the Maranao, the people residing near Laka Lanao in Mindanao. In Maranao, the word Darangen means "to narrate in song."
One of the segments of The Darangen is the "Sarimanok," which is based on a popular epic among the Muslims in Southern Philippines. The dance-drama revolves around a hero named Prince Indarapatra. His search for the Moon Goddess leads to adventure, duels with fantastic creatures and a final heroic conquest.
ADVERTISEMENT - CONTINUE READING BELOW
For ticket and inquiries, please call the CCP Box Office at tel. no. 832-3704 or Ticketworld at National Bookstore branches or Tower Records at tel. no. 891-9999.
Schedule: May 14 (7:30 p.m.) and May 15 (3 and 8 p.m.)
Venue: Tanghalang Nicanor Abelardo (Main Theater), Cultural Center of the Philippines, CCP complex, Pasay City.