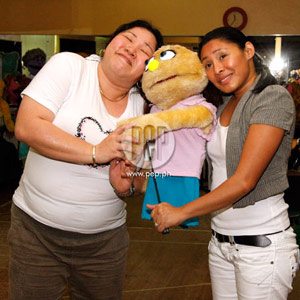 ---

A lot of people thought that the December 2007 run of AvenueQ would be the last time that theatergoers would be able to hear theclassic line "there's a fine, fine line between love, and a waste of yourtime."


But Atlantis Productions was able to close a deal in Singapore, allowing theperformers to perform at the Esplanade Theatre from October 31 to November 16.This prompted directors Bobby Garcia and Chari Arespacochaga to organizeanother run for Avenue Q just to make sure that everyone was still intop form when they perform in front of an international audience.
During the June 2 rehearsals of Avenue Q in MakatiCity, Bobby explains to PEP (Philippine Entertainment Portal) why they decidedto restage the play from June 13-22 at the Carlos P. Romulo Auditorium, RCBC Plaza,Makati City.
"The only reason why we did this run, we weren't going to dothis run now but then the Singapore thing happened so we figured we'd do onemore run. Because by the time the Singapore thing comes, these guys won't haveperformed for a long time. So in order to become fresh again and prepare theseguys for Singapore, we decided to do another run."
ADVERTISEMENT - CONTINUE READING BELOW
The Singaporean government has a reputation for beingconservative and in fact, all plays that will be staged in the country have toreceive approval from the National Arts Council. "In Singapore, you have tosubmit the script to a government agency that reads the script. Apparently, thescript was sent to them and they were laughing at it," narrates Bobby. He evenadds jokingly, "I hope they [the cast] won't get jailed!"
One major difference of this farewell run is the fact thatRachel Alejandro has been replaced by Carla Guevara-Laforteza while Thea Tadiaris the replacement of Teenee Chan, who handles the puppets of Mrs. Thistletwatand others. Bobby explains that scheduling problems caused Rachel to back outfrom the third Manila run.
He points out the reasons why they chose Carla to handle thepuppets of Kate Monster and Lucy T. Slut. "Carla is one of our country's mostversatile theater actress. She has done so many shows and when you do thisshow, you need someone dependable. It looks easy when you see it but you needsomeone who is really O.C. [obsessive-compulsive] and on top of themselves. Forthis show, you need to hire people who are very dependable and both Thea andCarla are."
ADVERTISEMENT - CONTINUE READING BELOW
"Having new people in the cast allows the show to evolve andtake on a different shape," says Bobby regarding the new additions. Carla wascast as an understudy for the role of Kim in the London production of MissSaigon from 1995 to 1997. She was also tapped to play the lead role inRepertory Philippines' Song and Dance in 2007.


Joining Carla Guevara are fellow thespians Aiza Seguerra, Joel Trinidad,Frenchie Dy, Felix Rivera, Rycharde Everley and his wife Thea Tadiar.


Avenue Q is about a puppet named Princeton (manned by Felix Rivera) whohas just graduated with a bachelor's degree in English. He gets to meet thefabulously furry people of Avenue Q, an apartment being run by Gary Coleman(played by Aiza Seguerra). The young man is then torn between the sweet girlKate Monster and the seductive Lucy T. Slut (both played by Carla Guevara).


Date: June 13 - 22, 2008


Venue: Carlos P. Romulo Auditorium, RCBC Plaza,Makati City


ADVERTISEMENT - CONTINUE READING BELOW
For inquiries, please call Ticketworld at 891-9999 or Lornaat 0917-9256505 or 0922-3875729. Tickets are priced at P500 (Balcony), P1,000(Loge), P1,100 (Orchestra Side), and P1,300 (Orchestra Center).

Click HERE to view photos of Avenue Q cast members.