A lot has happened since Jose Rizal exposed and explored the evils of Spanish regime—the social cancer—in his incendiary novels Noli Me Tangere and El Filibusterismo, which were published in 1887 and 1891, respectively.
Rizal was accused of treason, tried, persecuted, and eventually executed for that accusation. The Spanish left and the Americans took over. The World Wars happened. The Philippines gained democracy, and had a succession of presidents.
But through those years and most especially during these times, the country's affliction to social cancer remains woefully untreated and, alas, getting worse.
Hence, we, as a nation and as the voting populace, should be constantly reminded to find a cure to that affliction and a solution that will move us forward towards progress and stability.
This is where the arts and artists come in. Artworks—painted, sculpted, or performed—have the power to make us feel, think, question, and, hopefully, take necessary action.
One perfect example is Noli at Fili Dekada Dos Mil, a stageplay written by Nicanor Tiongson that premiered in 2008 and was recently restaged by the Philippine Educational Theater Association (PETA).
Noli at Fili Dekada Dos Mil, also known as Noli at Fili Dekada 2000 or simply Noli at Fili, tackles Rizal's first novel in the first act and his second novel in the second act.
Many of the characters in the novels are brought to life on stage, but some have been fused with several others and a few have been omitted. The characters' circumstances and goals remain, but with some modifications and popular culture references.

For instance, the social climber Victorina uses the expression "Pak! Pak! Pak!" popularized by Internet sensation Sofia Love.
In Noli at Fili, Ibarra (played by Lucho Ayala) is a young and newly elected mayor of Maypajo town in San Lorenzo province in the Southern Tagalog region. He imposes a total log ban not only to prevent a repeat of the great flood that killed 3,000 lives but also to conserve the environment.
Unfortunately, Ibarra's good intention runs against the political norm and he earns the ire of some influential people, particularly the political kingpin Tiago (Gie Onida), the military power Salvi (Jack Yabut), and the religious figure Damaso (Jojo Atienza, alternating with Richard Manabat).

The antagonists have their personal agenda and image to protect, thus they conspire to discredit Ibarra and alienate him from his great love, Clarissa (Kris Bernal, alternating with Liza Dino).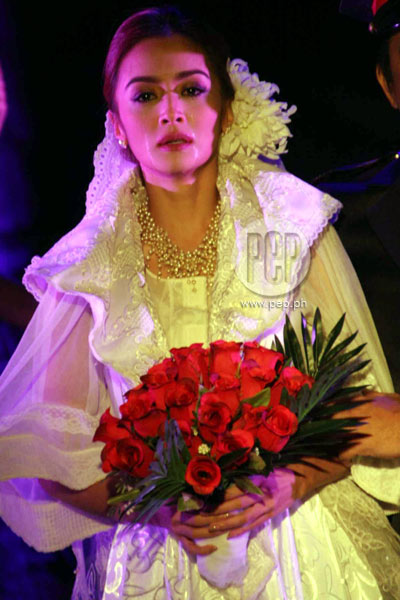 Kris Bernal


Ibarra has allies: the parish priest, Father Florentino (Buddy Caramat, alternating with Renante Bustamante and Raul Alfonso), youth leaders Basilio (Ian Segarra, alternating with Rhenwyn Gabalonzo) and Isagani (Gio Gahol, alternating with Joseph Madriaga), and his childhood friend Elias (Riki Benedicto, alternating with Marco Viana). But they are no match to the powers that be.
Ibarra is overthrown and goes underground. He turns bitter and vengeful, antagonizing Basilio and Isagani's pursuit to become productive citizens. He tries to reunite with Clarissa and eliminate Salvi and the rest of his enemies. In the end, he fails miserably, but is comforted by the wise and hopeful words of Father Florentino.
Playwright Nicanor Tiongson crafted a material imbued with the theme, spirit, and integrity of Rizal's novels, and with a contemporary feel and brisk storytelling.
Director Soxie Topacio made the material come alive onstage, enabling the audience to see the play's point, ponder on it, and enjoy the experience.
There were times, though, when the pop culture references became disruptive to the story's milieu and distracting to the audience.
The cast, which is a fine mix of theater newbies and veterans, knew exactly who they are playing and they succeeded in making the audience understand their characters.
For the special gala show, Kris Bernal played Clarissa. It is the GMA-7 star's first assigned performance for Noli at Fili, as well as her first theater experience ever. It wasn't a sensational stage debut, but it was good enough for someone whose acting background is confined to a number of TV drama shows and several movies.
Kris deserves a round of applause for stepping out of her comfort zone, taking risks, and expanding her horizon. She may not continue working in theater, but at least she tried and she must have learned something from that experience.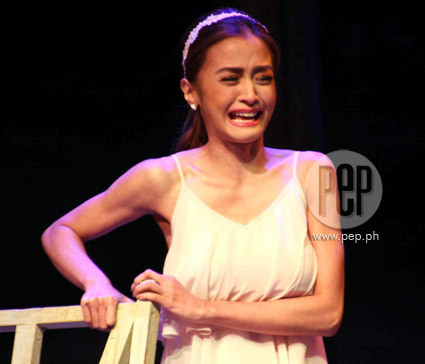 Kris Bernal


Lucho is not exactly a greenhorn in theater. He spent the first two years of his college life taking up theater arts at the University of the Philippines-Diliman. He's now working on a degree in B.A. Speech Communication in the same university. He's been part of the stage productions Vignettes of a Hundred Years by the SPUP Theater Guild and Sierra Lakes by UP Dulaang Laboratoryo.
Noli at Fili is his first play with PETA—and it should not be his last. He should also try other companies and tackle more roles. He already has the stage presence and confidence, he just has to hone his acting ability and take it to greater heights.
So that when he gets TV assignments again (he's with GMA Artist Center like Kris), Lucho will able to make a lasting mark and eventually develop into a dependable actor or even a top leading man in the network.
Kudos to PETA for giving untested actors the opportunity not only to experience and get challenged by the legitimate stage but also to star in a major production. Also, more importantly, for choosing a material with a timely social and political theme.
Noli at Fili Dekada Dos Mil is being staged until September 27 at the Springs Production Studios in New Manila, Quezon City.

In line with this, PETA holds a festival in honor of National Hero, Sa Aking Mga Kabata: An Arts Festival on the Life and Works of Rizal, from September 25 to 27. The festival is packed with an exciting lineup of workshops, performances, and lectures that will surely spark the attendees' passion for nation building.
For more information on Noli at Fili Dekada Dos Mil and Sa Aking Mga Kabata, interested viewers may visit www.petatheater.com or call PETA at Tel. No. 725-6244.