Chuva Choo Choo is a new musical comedy alternately titled The Mr. Kupido Musicale.
Featuring the popular songs of Vehnee Saturno, this musical is written and directed by Palanca winner George de Jesus III.

It revolves around two sisters named Dina (played by Joanna Ampil of Miss Saigon fame) and Darla (played by The Voice PH finalist Morissette Amon).

The song lineup includes "Be My Lady," "Isang Lahi," "Para Sa 'Yo," "Sana Kahit Minsan," "Follow Your Dreams," and "Mula sa Puso," among others.

With a faint semblance to the 2004 Hollywood film Connie and Carla, the story is about two sisters and their best friend Nenita (played by Ross Pesigan) who ran away from their hometown in Pangasinan after having witnessed a possible crime.

In Manila, they are challenged to hide their identities by pretending to be transvestites.

Dina transforms into Jaya while Darla becomes Jessa.

Rachelle Alejandro has a special cameo in the musical.
Joanna and Morissette can certainly sing magnificently. However, possibly because the script was not in Ampil's comfortable language which is English (Joanna has been in West End musicals since 2008), Morissette turned out to be the better actress of the two.

The latter had the nuances of a giggly young woman who can be very pesky but mature when needed. One of her best moments was during the musical number of "Kaba," where she flirts with Zandro (played by Edward Benosa) and discovers she might be falling for him.
The real heroine of the play, however, was Via Antonio. She played 8 different characters and was very funny in all of them. She reminded me of Eugene Domingo. Each character was different and she made the audience laugh without consciously trying. My favorites were her characters of the innkeeper Mrs. Chu (especially the "bagua" moment). She also gave a memorable turn as Anne, the capricious host of Pinoy Got Boses, a singing competition that turned the two cross-dressing protagonists into popular personalities.
The set design is pretty minimalist in silhouette and aptly inspired by a Rubik's cube. I say aptly because it fits with the overall dramatic structure of the play that entrenched the protagonists in a whirlwind series of events until they've tried out that one move they have been avoiding, which made everything fall into place like a puzzle. However, this didn't sit well with shiny and colorful costumes. It completely clashed with it.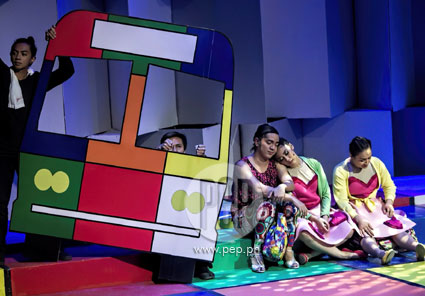 The lighting is fairly good, with the dark tones of purple and pink emphasizing the atmosphere of a seedy bar that is Mr. Kupido.

The blocking of the artists could still be improved, since the stage is an arena-type and I observed that many tableaus still favored only viewers in front of the stage.

There were some technical problems prior to the start of the play, some actors' lapels were unknowingly turned on and their voices were heard by audience members prior to the start of the play.

There was also a scene where Pesigan to run swiftly across the other side for his next scene and since there is no decent "crossover" yet in theater, this writer was able to hear his heavy footsteps coming from behind the audience area, which was kind of distracting.
The best thing about this musical is that it never pretends to be anything more than it is. It is plainly a jukebox musical with a simplistic storyline that is designed to cater to the masses with its love story subplots and handsome leading men.

It has the potential to be a great "feel good" musical given more time to rehearse, since director George de Jesus III admitted that they started rehearsing just last September 1, for a total of about two weeks.
Chuva Choo Choo is produced by Stages Production Specialist, Inc.

The musical had its initial four shows last September 25-27 at the Power Mac Center Spotlight, a 300-seater black box theater with a wide stage located at Circuit Makati. It will have its regular run in January 2016.