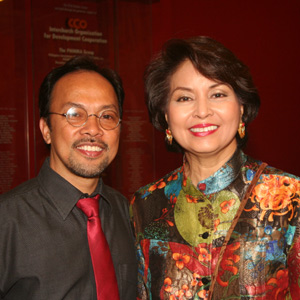 ---

"Pagpasensiyahan niyo na, di po ako sanay mag-Ingles,PETA kasi ako," a smiling Soxie Topacio told the crowd of dignitaries andguests during the concert of the most unforgettable plays of the PhilippineEducational Theater Association. A majority of the audience wildly applaudedthe director's candor that encapsulates the PETA experience. No otherorganization has produced more plays and productions based on Filipino.
Apart from the concert, PETA recently celebrated its 40thanniversary with the unveiling of the mural titled Ang Baraha ng Buhay1967-2007. A book chronicling the history of the theater company was alsolaunched, A Continuing Narrative on Philippine Theater: The Story of PETA.Brenda Fajardo led fellow artists Noel Cuizon, Iggy Rodriguez, Karen Floresand Max Santiago in the concept and design celebrating the continuing journeyof PETA since 1967. The mural was made possible through the generous support ofthe Mayor Sonny Belmonte.
"This book has finally come to life thanks to theToyota Foundation. They showed boundless patience, which took ten years. Ourstory is entwined with the artistic community, grass roots organizations, manycorporations like PLDT and SMART. Even students and leaders both local and fromdifferent countries have been part of our history. We thank you," saidPETA president Cecilia B. Garrucho.
In the May 30 event, she gave the first editions to thesignificant personalities that help shaped the organization: CecileGuidote-Alvarez, the founder of PETA; Ramon Del Rosario Jr., chairman of theBoard of Trustees; Dr. Alejandro Roces, representative of the late Teodoro"Doroy" Valencia who helped fund the many projects of PETA during itsearly years; and Anj Heruela of the Metropolitan Teen Theater League.
PETA started the practice of creating and performing playsin Filipino. A solid record of some 400 plays written, translated, adapted,published, and performed shaped the company's and the country's theaterhistory.
This 40-year-old theater group is now based at the PETATheater Center at 5 Eymard Drive, New Manila, Quezon City. For inquiries,please call Tel. Nos. 725-6244 or 722-6911.
ADVERTISEMENT - CONTINUE READING BELOW