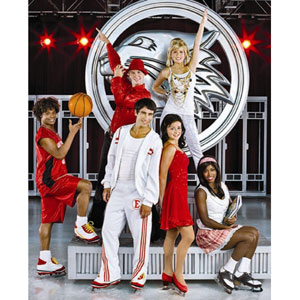 ---

Afterthrilling millions of fans across America and Europe for the past year, High School Musical: The Ice Tour is setto take Asia by storm as it kicks off in Manila this July.
Theice tour, which fuses songs, dance, and team-spirited fun from the originalEmmy Award-winning Disney movie, will feature music from the High SchoolMusical soundtrack in two acts—the first act focusing on the first film,while the second act covers the second film in two hours.
"We'reexcited to bring Disney's High SchoolMusical: The Ice Tour to everyone around the world because this story isabout kids being true to themselves," said Tony Award-winning producer KennethFeld.
High School Musical revolves around thestudents of East High, particularly Gabriella Montez, a smart girl labeled as anerd in her former school, and Troy Bolton, the school's basketball star andheartthrob. After teaming up in a karaoke contest in New Year's Eve party, theybecome friends and eventually, learn that they are classmates in East High.
Troyand Gabriella audition for their school's production of Juliet and Romeo, but find themselves at odds with twins Sharpayand Ryan Evans, who always get the lead roles in the school plays. Even theduo's friends advice Troy and Gabriella to "stick to the status quo" and leavethe leads to the Evans, who would do anything to stop the nerd and the jockfrom stealing their thunder.
Adistinguished set of talented Olympic skaters headline the cast of this iceshow. "We chose skaters who could really relate to the characters, so thatthe performances would be really authentic, raw, and energetic," said EricGravelle Regional Marketing Director for South East Asia and India of FeldEntertainment.
"Justlike the kids in the movie, the skaters we have cast in the show know all aboutreaching for themselves," said Kenneth Feld.
Disney'sHigh School Musical: The Ice Tour runs from July 11 to 20 at the AranetaColiseum. Tickets are priced at P1340, P1190, P900, P640, P350, and P150. Forreservations, call Ticketnet at 911-5555 or log on to www.ticketnet.com.ph.
ADVERTISEMENT - CONTINUE READING BELOW