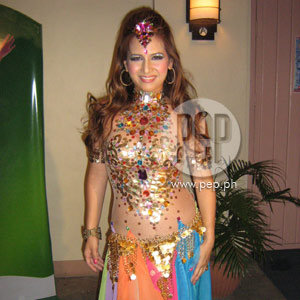 ---

One of the country's most famous belly danceenthusiasts, Regine Tolentino, will once again join the Belly Fest organized byPeak Performance Dance and Fitness Center. The second edition of this annualdance festival will be held tomorrow, June 28, at the Glorietta Activity Centerin Ayala Center, Makati.
The whole-day event will start at 11:00 am, witha basic Belly Dance workshop to be conducted by Crystal Calinawan. Otherworkshops include the Veil Dance to be conducted by Gladys Mallari. The morningschedule will conclude with a solo performance by Reign Naz and a five-minuteBelly Dance parade scheduled at around lunchtime.
More workshops and various performances willfill the afternoon schedule. Belly Dance instructress, Gemma Magtibay will conducta Modern Belly Dance workshop at 1:35 pm. There will also be a Sword Danceperformance by Gemma Mascarinas (Path to Goa) after another group performanceby Gemma's recitalists.
Beauty expert and celebrity, Ms Cory Quirino,will also join the affair to share beauty tips and healthy living guides in herseminar titled "How to be a Goddess." Being an advocate of healthy living,Nesvita will give away t-shirts to the 50 participants of the Aero marathon ataround four o'clock in the afternoon.
The grand show will begin at 6:00 pm and willfeature different performers from the country's leading dance groups such as theBelly Fest dancers, Peak Performance students, Arcel Benson recitalists, GladysMallari recitalists, and those from Clara Ramona and Co. Not to be missed aresolo performances from dance masters Clara Ramona, Jill Ngo-Crisologo of PeakPerformance, Arcel Benson, Gemma Magtibay, Zumre, Nilda Boquiren, ClaireSakumura, and Ms. Regine Tolentino.
ADVERTISEMENT - CONTINUE READING BELOW
For inquiries on Belly Fest 2008, contact PeakPerformance Dance Studio at mobile: 0917-6247534; phone and fax number:4133466; and e-mail address: peakperformance@asiapad.com.