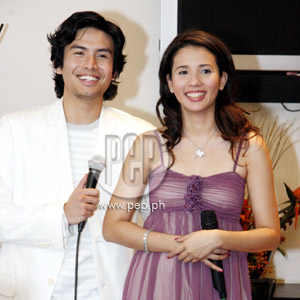 ---

As early as two years ago, STAGES president Audie Gemora wasthinking of bringing West Side Story to the Philippines to giveFilipinos a chance to appreciate classic musical plays such as this one. WestSide Story is actually a 50-year old musical that was first performed onBroadway on September 26, 1957. It takes place in the mid 1950's, when manyPuerto Ricans moved to the west side of Manhattan, New York City.

Christian Bautista and Karylle showed members of the press a sample of what toexpect in their musical play, which will staged from September to October thisyear. During the June 26 press conference of West Side Story at theCircle Café (co-owned by Karylle and Dingdong Dantes) in Quezon City, the twolead stars sang "Tonight" while Christian showed his vocal prowess in the song"Maria."

Asia's Pop Idol cites "Maria" as his favorite song in the musical because ofhis training as a romantic balladeer. "Our characters, Tony and Maria, arestar-crossed lovers," says Christian. "Galing sila sa magkaibang raceand to have a relationship was forbidden. So there will be lots of hugging,holding hands and, of course, may halikan din. Kasi nga, hindi nila alam kungkelan ulit sila magkikita or magsasama because bawal nga. It's a beautiful lovestory and we want everybody to see it."

He adds: "Everybody sings the songs. Ang daming magandang songs na sikat like'Somewhere,' 'Maria,' na galing sa West Side Story." Indeed, thismusical boasts of memorable songs created by Leonard Bernstein with lyrics byStephen Sondheim.

Will their kissing scenes cause problems with Karylle's boyfriend DingdongDantes? "Gusto ko magkausap kami like two gentlemen because I will be workingwith Karylle in this musical from September to October of this year. I justwant to say that I will be taking good care of Karylle and he has nothing to worryabout," assured Christian.

How is he preparing for his role as Tony? "That's the challenge here: I have tofall in love with two different leading ladies [Karylle and Joanna Ampil]. Ihave to kiss two different ladies. I have to be comfortable sa kanilang dalawa."

"My character Tony, gangster siya dati pero ayaw na niya. Pero dapat makita parin yung pagiging gangster niya na pinipigil niya. Dapat talaga tough ako pero'pag na-in love ako, lahat ng toughness na 'yon, nawawala."

BROADWAY REVIVAL. Audie points out how everything just fell into placefor the Manila run of this beloved masterpiece. "We got it just in time becausethere is a revival after almost 50 years," says Audie. "It will be revived inBroadway with Arthur Laurents, the original author, directing this play at age91! The movie was shot in 1957 and very romantic ang movie style noon. We wantto have a more realistic style, mas tunay. I am challenging them to make itmore contemporary." He adds that it would have been more expensive if they hadacquired the rights for this play next year.


ADVERTISEMENT - CONTINUE READING BELOW
The cast members of West Side Story will be followingthe original choreography of the play, which is why Christian and Karylledecided not to watch the movie since they became confused by the sequences."When we saw the music sheets, may mga kanta sa musical na wala sa movie. Ibayung order so we stopped watching it," narrates Karylle. She plays a PuertoRican in this movie so she studied the accent by rolling her r's.

The SOP mainstay admits that she has been raring to go back to theaterfor the some time now. "In my mind, I thought of doing a play this year. In myheart, I was asking myself, 'when can I go back to theater?' Last year, I didthe mall play Seussical the Musical, kahit papaano it prepared me forthis since it's hard to go back to theater and a big play at that. Kahitpapaano, it gave me the practice of rehearsing every day, staying late,studying with music sheets, and just being confident enough to play. That's thediscipline of theater," says Karylle.

RIVAL WORLDS. Incidentally, her leading man Christian is a host of SOP'srival show, ASAP '08. She is a contract artist of GMA-7 while he is aregular in the ABS-CBN Sunday variety show. It is also interesting to note thatKarylle's vocal coach is Kitchy Molina, who is currently also the vocal coachof the Pinoy Dream Academy Season 2 contestants.

But the young actress is quick to point out that there has never been rivalrybetween her and the Kapamilya star. "Parang ang konti na nga lang ngartists sa Philippines, mag-aaway-away pa ba," she says. "At saka, ili-limit paba natin yun? Kita n'yo nga, nahihirapan na nga ang STAGES to find people whocan dance, act, and sing, 'tapos ili-limit pa ba natin yun? 'Tapos sasabihan panatin na bawal yung ganito kasi sa kabila ka? Bakit, di ba?"
ADVERTISEMENT - CONTINUE READING BELOW

Christian is tapped to be the lead character of West Side Story afterappearing in stage musicals such as The Lion, the Witch and the Wardrobeand Luna. This is also Karylle's return to theater after being part ofSTAGES' The Little Mermaid a few years ago, which also starred KCConcepcion and Carol Banawa.

London West End's major star Joanna Ampil will be playing Maria in 10 out ofthe 20 shows of West Side Story, alternating with Karylle. GianMagdangal, another SOP mainstay, will play Riff, the leader of the Jetsand a close friend of Tony. This play is directed by Menchu Lauchengco-Yulowhile musical director Gerard Salonga and his Filharmonika orchestra will beproviding the music for West Side Story.

Tickets are now being sold at Ticketworld (Tel. No. 891-9999) andticketworld.com.ph. Show buyers and block buyers may call STAGES at 818-1111loc. 225. Ticket prices range from P500 to P1200.


STAGES' production of
West Side Story
ispresented through special arrangement with Music Theatre International (MTI) inNew York.