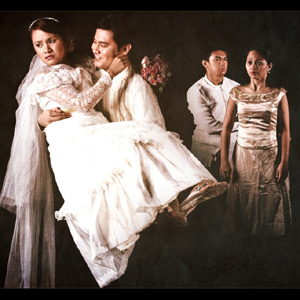 ---

If Jose Rizal had written his two novels today, what issueswould he raise? In modern society, whowould Ibarra and Maria Clara be? Whowould be the equivalent of the villains Padre Salvi and Padre Damaso, and thecharacters of Elias, Pilosopong Tasio, Basilio, Isagani, and Padre Florentino? Would his second novel end the way it didwhen he wrote El Fili in 1891?
The Philippine Educational Theater Association (PETA) opensits 41st Theater Season this July with a new interpretation to Rizal's classicworks Noli Me Tangere and El Filibusterismo with NicanorTiongson's Noli at Fili Dekada 2000 (Dos Mil).
Inspired by the national hero's powerful critique of the"social cancer" festering in the very heart of late 19th century Filipinas, Noliat Fili Dekada 2000 with humility and concern reflects on the "reign ofgreed" in contemporary Philippine society. It seeks to underscore the continuing relevance of Rizal's charactersand the validity of his social analysis today. But it also highlights the differences in the conditions of the 19thcentury and those of our time.
ADVERTISEMENT - CONTINUE READING BELOW
Noli at Fili Dekada 2000 (Dos Mil) is set inthe small town of Maypajo in the province of San Lorenzo in Southern Tagalog.An idealistic but naïve Ibarra Marasigan, the newly-elected mayor, decides toput a final stop to the deforestation of the Sierra Madre. He finds loyalsupport for this cause in Fr. Ino, parish priest of Maypajo; Mr. Atanacio, theprincipal of Maypajo High School; Kapitan Badong, the present chief of allbarangay chairmen in Maypajo, and, most of all, Clarissa Santos, his childhoodsweetheart and now fianceé.
However, as Mayor Ibarra makes more vigorous moves againstdeforestation, he uncovers the whole web of corruption that implicates hisfuture father-in-law and godfather Governor Santiago Santos, ProvincialCommander Colonel Salvador (Salvi) Salvatierra, and Monsignor Damaso, bishop ofthe newly established diocese of San Lorenzo. Mayor Ibarra is removed fromoffice by "people power," his fianceé is blackmailed into marrying Salvi, andhis childhood friend Kumander Elias of the National Liberation Army (NLA) dieswhile covering Ibarra's escape from prison. Three years later, Ibarra has risen to the leadership of the NLA. Now feared as Kumander Simon, he leadspersonal, punitive attacks against the individuals who caused his downfall asmayor of Maypajo.
ADVERTISEMENT - CONTINUE READING BELOW
Under the direction of theater and movie stalwart SoxieTopacio, this contemporary interpretation of these much-studied novels willfeature some of the country's seasoned stage artists as well as PETA's pool oftalented young actors and guest artists: Lex Marcos, Bodjie Pascua, Bembol Roco, Robert Seña, Raffy Tejada, ErnieCloma, Randy Villarama, Gilbert Onida, Upeng Galang-Fernandez, MarichuBelarmino, Jess Evardone, Julia Enriquez, Shé Maala, Ian Segarra, NorbsPortales, Jack Yabut, Neomi Tabanao-Gonzales, Eric dela Cruz, and JosephGrantusa.
Performances are slated at the PETA-Phinma Theater from July18 to August 24, 2008, Fridays, Saturdays and Sundays with shows at 10 am and 3pm on all days. Tickets are priced atP300 each.
For inquiries and ticket reservations, call the PETAMarketing and Public Relations Office at 725-6244, 410-0821, 0917-8154567,0917-5642433, or email petampro@yahoo.com.Noli at Fili Dekada 2000 (Dos Mil) is also open for sponsorshipand show buyers.
Performance dates: July 18 to August 24, 2008

Venue: PETA Theater Center, 5 Eymard Drive (formerly Sunnyside Drive), Brgy.Kristong Hari, New Manila, Quezon City
ADVERTISEMENT - CONTINUE READING BELOW