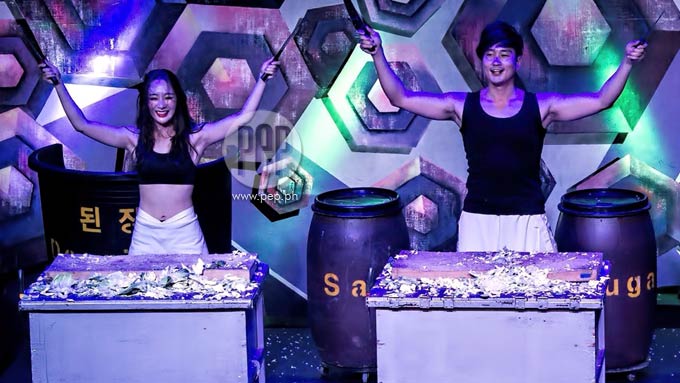 ---

Despite what its title suggests, this musical is no cooking show. It is, in its most basic sense, a show about cooking.
Cookin' NANTA is a long running show in Korea that began in 1997.
It has been highly praised worldwide for its unique concept as a "non-verbal" musical, thus guaranteeing that there is no language barrier.
The award-winning show introduces three chefs and their ill-tempered restaurant manager who brings in his young nephew to join the kitchen crew.
Their challenge for the day is to cook up a four-course meal for a wedding banquet within the hour.
As they cook up each dish, the entire kitchen transforms into a musical playroom with every kitchen essential imaginable turning into a percussion instrument.

Imagine using empty water containers, woks, mixing bowls, and chopping boards as a drumset with ladles and whisks as drumsticks.
Making use of traditional Korean beats of "Samul nori," the musical offers an upbeat mix of Korean folk music and modern music that will captivate audiences.
Add in superb comedic performances, energetic acrobatic sequences, and hands-on audience participation, Cookin' NANTA is designed to invigorate all five senses within 90 minutes.
Here are three reasons why you should not miss out on this show that is being staged at the Solaire Theatre until November 15:
It is a musical banquet: Once you have set yourself on buying a ticket, imagine it as if you are heading out to one of your family Sunday get-togethers—meaning, expect the unexpected.
Just because this is a show about cooking, it doesn't necessarily mean you will just watch them cook.
ADVERTISEMENT - CONTINUE READING BELOW
Apparently, the kitchen is packed with fun surprises that will leave audiences crying with laughter.
It will make cooking even more interesting: Granted, some cooking shows on television have already achieved this, but you won't see them striking down a beat and dancing to the rhythm as they cook bulgogi!
Just remember: DO NOT attempt to duplicate their highly-energetic percussion number with real, sharp knives at home. However, you will probably find yourself making up a beat when chopping up a cabbage the next time around.
It will make you forget about the EDSA traffic and other problems for the day: The most memorable thing about Cookin' NANTA is appreciating the comedic performances even without dialogue.
Even though the musical is said to be "non-verbal," the Korean performers managed to add a few Tagalog words in their performances.
The restaurant manager stood out during their opening show last November 10 at the Theatre in Solaire when he uttered the words, "Masarap!" and "Linisin mo 'yan" in clear diction.
In another scene, one of the head chefs surprised an audience member when he beckoned her to come on stage saying, "Halika!"
But it has been clear from the beginning that they knew how to tickle the Filpinos' funny bone when the manager's young nephew greeted his uncle with "Manong!" followed by the pabebe wave.
This broke the ice for audiences that night and everyone had the sense that they were in for a real treat.
The comedic timing and physical comedy of the performers was reminiscent of Dolphy's sense of humor and made a seamless connection with Pinoy audiences.

Cookin' NANTA is being staged at The Theatre in Solaire until November 15. For details about the shows, CLICK HERE.



ADVERTISEMENT - CONTINUE READING BELOW
Ed's Note: The "PEP Review" section carries the views of individual reviewers, and does not necessarily reflect the views of the PEP editorial staff.