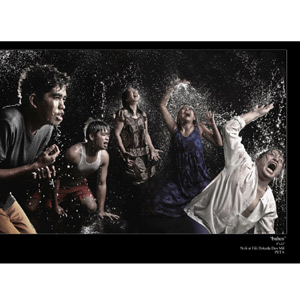 ---

How would you like to see torrential rains recreatedonstage? This is one of the highlights of the stage play Noli at Fili Dekada2000 (Dos Mil), which will be staged at the PETA Theater Center inNew Manila, Quezon City.
The Philippine Educational Theater Association (PETA) willopen its 41st Theatre Season with the play Noli at Fili Dekada 2000 (DosMil). This is a contemporary adaptation of Jose Rizal's El Filibusterismo andNoli Me Tangere written by Nic Tiongson and directed by Soxie Topacio.
Respected actors Bodjie Pascua, Bembol Roco, and Robert Señaare part of this play, which begins with a flash flood caused by illegallogging in their area. Noli at Fili Dekada 2000 is set in a small townin the Quezon province wherein small town politics and social mores become thebackdrop of Rizal's novels. The question of where change really emanates willbe explored as we see how after a hundred years later Rizal's novel resonatesin contemporary Philippine culture.
The modern-day interpretation of these much-studied novelswill feature some of the country's seasoned stage artists as well as PETA'spool of talented young actors and guest artists, such as: Lex Marcos, Bodjie Pascua, Bembol Roco,Robert Seña, Raffy Tejada, Ernie Cloma, Randy Villarama, Gilbert Onida, UpengGalang-Fernandez, Marichu Belarmino, Jess Evardone, Julia Enriquez, Shé Maala,Ian Segarra, Norbs Portales, Jack Yabut, Neomi Tabanao-Gonzales, Eric dela Cruzand Joseph Grantusa.
The show opens July 18, 2008 at the PETA-Phinma Theatre andruns until August 24, every Friday, Saturday and Sunday with performances at 10am and 3 pm. Tickets are priced at P300. The show is also open for show buyersand sponsors.
Viewers can get more discounts by availing of the 41stTheatre subscription. For P1,000 avid theatergoers can enjoy one entry pass toall six theatre productions at the PETA Theatre Center this season, with optionfor reserved seating. Plus the pass holder can also get a 10% discount for amaximum of two companions per show.
ADVERTISEMENT - CONTINUE READING BELOW
Aside from the opening play Noli at Fili Dekada 2000,pass holders can also watch and enjoy the five other plays lined-up for theseason, namely: Tosca (August), Mga Kwento ni Lola Basyang and BatangRizal (September and October), Saan Ba Tayo Ihahatid ng Disyembre (Februaryand March) and Adapting the European Masters (March).
For inquiries regarding the shows and subscriptions, pleasecall the PETA Marketing and Public Relations Office at 410-0821/7256244 oremail us at petampro@yahoo.com.
Performance dates: July 18 to August 24,2008

Venue: PETA Theater Center, 5 Eymard Drive (formerly SunnysideDrive), Brgy. Kristong Hari, New Manila, Quezon City.