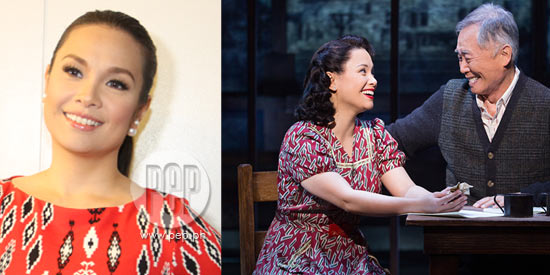 ---

After six years, Lea Salonga returns to Broadway for the musical Allegiance.

The Filipina actress is part of the World War II internment camp musical inspired by true events.

George Takei (best known as Hikaru Sulu in Star Trek) recalls his childhood experiences when he and his family were detained in a Japanese-American internment camp in Wyoming.

In the play Allegiance, Lea is cast as Kei Kimura, the sister of George's character, Sam.

Sam Kimura wants to prove his patriotism by fighting for his country in the war, but his sister, Kei, fiercely protests the government's treatment of her people.

In an interview with The Hollywood Reporter, Lea expressed shock over the fact that George and his family were imprisoned in an internment camp.

"I knew very, very little [about it beforehand], and it shocked me when George talked about what his family's been through--they were led there at gunpoint to a horse stall in Santa Anita!

"I'm thinking, 'That's absolutely impossible; there's no effing way this could've happened. But it did. The United States incarcerated its own citizens," said Lea, who is currently in New York.

Allegiance can be considered a landmark project since is represents an increased representation of diverse stories on stage.

The last Broadway show to feature an Asian-led cast was the 2002 revival of Flower Drum Song, which also starred Lea.

In The Hollywood Reporter's article titled "Asian Actors Onstage: Lea Salonga, Phillipa Soo Sound Off on Broadway Representation, Cultural Perceptions," the Pinay actress shared her thoughts about being a trailblazer for other Asians who want to penetrate the international scene.

Lea candidly admitted that even her own parents, just like other Asian parents, prefer their children to work as professionals and not enter showbiz.

"I grew up in the Philippines, and I spent most of my life acting and singing and dancing onstage or TV or on film. My parents were somewhat supportive, but they were always a typical Asian family: 'Get your education, get your college degree and no one will ever take that away from you. Don't count on show business as a primary occupation because it's very fickle,'" recalled Lea.

The actress started her showbiz career in the Philippines when she was a young singer. She gained fame for her rendition of "I Am But a Small Voice" and released her debut album when she was only nine years old.

As a teenager, Lea became part of the iconic show That's Entertainment.

She gave her observation about the entertainment scene: "We've seen people be complete successes one minute and total wash-ups the next. It's a very practical piece of advice. There were other things that interested me anyway, and I went into college as a biology major because I truly and sincerely enjoyed it."

Lea, who was selected to play Kim in the worldwide debut production of Miss Saigon, is thankful that this project became instrumental in allowing other Asians like her to penetrate the international scene.

"Then, Miss Saigon happened, and bam, my life changed.

"All of us were feeling like we're blazing a trail for other people of our race, and we have no idea what's going to happen once this show opens, and it then became an incredible employment opportunity for so many Asian-American actors."

She understood the hesitations of Asian parents in encouraging their children to pursue a career in showbiz "because Asians onscreen, onstage, it's a very underrepresented group."

However, she pointed out that the staging of Allegiance and Hamilton has allowed thespians from minority groups to have their time in the spotlight.

Hamilton is a Broadway musical about Alexander Hamilton, chief aide to general George Washington during the Revolutionary War.

What sets Hamilton apart is the fact that the black, Hispanic and Asian-American actors have been tapped to portray George Washington, Thomas Jefferson and James Madison, major players in American history.

Through her play Allegiance, Lea is seeing how producers and audiences are welcoming diversity onstage.

"The cool thing about Allegiance is, you see the Asian romantic lead get the Asian romantic leading lady at the end!

"It's not a spoiler: there's B-roll of us kissing at the end of a romantic number!

"That's not been seen on Broadway yet, and it's awesome. And there's another Asian lead and he's involved in an interracial romance — how often do these stories happen?

"The times, they are a–changing."




ADVERTISEMENT - CONTINUE READING BELOW