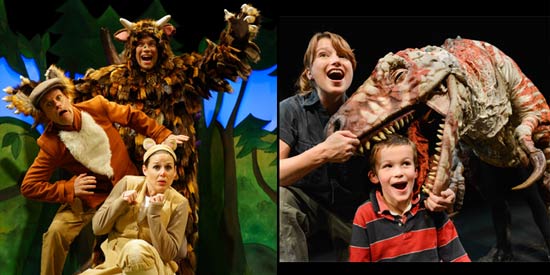 ---

KidsFest is finally coming to Manila.

Dedicated to educating children about the magic of live theatre, KidsFest 2016 will be held at the RCBC Theater in Makati City from January 27 to February 7, 2016.

Bringing world-class stage productions directly from London's West End, KidsFest has grown into one of the biggest and most anticipated family entertainment events in Hong Kong and Singapore.

This 2016, Filipinos can finally witness the theatre festival.

The core of KidsFest 2016 features three acclaimed live productions: The Gruffalo, Aliens Love Underpants and erth's Dinosaur Zoo.

All shows are performed by professional theatre companies from the United Kingdom.

On top of the live shows, there will also be face painting, food stalls, coloring areas, and a photo booth with take-home souvenirs, not to mention a meet-and-greet session with cast members.

With all these and more, KidsFest 2016 will surely be a festival for the whole family to enjoy.

KidsFest 2016 is brought to Manila by Concertus Manila, in partnership with ABA Productions and Lunchbox Theatrical Productions.

"In its four years, KidsFest has grown into a major family entertainment event in both Hong Kong and Singapore," says Matthew Gregory, Executive Producer of Hong Kong-based ABA Productions.

"This year, we're proud to bring three world-class live performances to Manila. These shows will provide a fun and educational experience that the whole family can enjoy. I truly hope that this event will give children an opportunity to experience the magic of live theatre and expand their knowledge of the art."

Don't miss this children's theatre festival. Book your tickets at TicketWorld. Call Tel. No. 891-9999 or visit Ticketworld Online.

For more details, check out the Kidsfest Manila website at
www.KidsFest.com.ph.



The Gruffalo

A mouse took a stroll through the deep dark wood…

Join Mouse on an adventurous journey in Tall Stories' magical, musical adaptation of the award-winning picture book by Julia Donaldson and Axel Scheffler.

Mouse sets off on a daring adventure through the deep dark wood in search of hazelnuts, meeting the cunning Fox, the eccentric old Owl and the party mad Snake on the way. Will the story of the fabled Gruffalo save Mouse from ending up as dinner for these wily woodland creatures? Armed with only a nut map and a little courage, Mouse must outwit them all, and after all, there's no such thing as a Gruffalo – is there?

Songs, laughs and scary fun for children aged 3 and up and their adults, in a show that's toured around Britain and the world. Let your imagination run wild!


Production info:
Directed by Olivia Jacobs. Creative Producer Toby Mitchell. Designer Isla Shaw. Lighting by James Whiteside, music by JollyGoodTunes, and choreography Morag Cross.


Adapted from the book by Julia Donaldson & Axel Scheffler




Aliens Love Underpants

Aliens love underpants
Of every shape and size
But there are no underpants in space
So here's a big surprise!

Aliens Love Underpants tells the story of a gang of mischievous aliens on a visit to earth, travelling not to visit earthlings, but simply to steal their underpants.

Silly, quirky and irresistibly funny, the show follows the aliens as they ransack the washing line on their search for pants – big and small, red or green. The love Grandma's spotted bloomers, while Grandad's long johns make for the perfect slide! The book, written by Claire Freedman and illustrated by Ben Cort, was selected for UK TV's Richard and Judy's Children's Book Club with the help of pupils from schools around the UK, and has been hugely popular since it was first published in 2007.

This zany and hilarious tale based on the best-selling children's book is wonderfully brought to life on stage for the very first time. With stunning effects, madcap action, original music (and lots of aliens of course!) this fantastically fresh and funny production will delight the whole family.


Production info:

Directed Adam Bampton-Smith. Set and Costume Design by Isla Shaw. Lighting by Will Evans and choreography by Emma Clayton. Sound Shock Productions.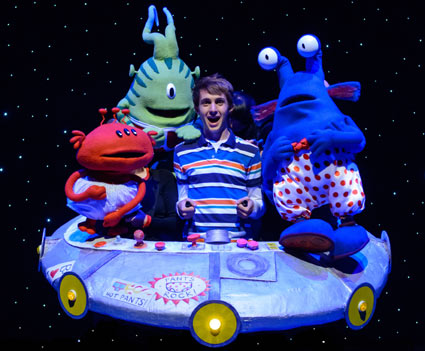 erth's Dinosaur Zoo

Dare to get up close and personal!

Direct from the West End, erth's Dinosaur Zoo brings these awesome prehistoric creatures to the stage as you've never seen them before!

From cute baby dinos to teeth-gnashing giants, observe and interact with extraordinary life-like dinosaurs in this imaginative and hilarious live show. But watch out. Not all of these ravenous reptiles are as tame as they seem! After the show, stick around for a "meet & greet" with the dinosaurs.


ADVERTISEMENT - CONTINUE READING BELOW