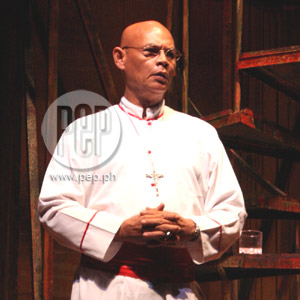 ---

During the dress rehearsal of the play Noli at FiliDekada 2000 (Dos Mil), PEP (Philippine Entertainment Portal) wasable to talk with veteran actor Bembol Roco regarding his portrayal of Bishop Damaso, a character that is based on the friar Padre Damaso in the novels of Jose Rizal.
Noli at Fili formally opens the 41st theater seasonof the Philippine Educational Theater Association. This two-and-a-half hourplay will be staged at the PETA Theater Center in Quezon City starting thisFriday, July 18.
The first act deals with the interpertation of Jose Rizal's Noli Me Tangere while the second act deals with the El Filibusterismo. According to Dr. Tiongson, he based this play on interviews with residents of Infanta, Quezon, who survived the flash flood caused by illegal logging in their area.
How did Bembol get involved with this project?
"I was invited by Soxie Topacio [the director of the play]. I've doneseveral plays for PETA already, but not in the longest time," he told PEP lastJuly 14 during the dress rehearsal of Noli at Fili. "The last time I dida play for PETA must have been more than twenty years ago; I think it was MgaAma, Mga Anak with Lino Brocka."
He has been rehearsing for his role as Bishop Damaso forover a month and he will appear in half of the total shows since he alternateswith Bodjie Pascua of Batibot fame.
What attracted him to the play?
"I love stage! I am astage man. I've missed this very much. In fact, sabi ko nga kay Soxie Topacio, 'bakit ngayon n'yo lang ako niyaya dito?'"
The modern-day version of the play, written by Dr. NicanorTiongson, features rebels called the National Liberation Army and plenty ofgunfights between the military and the rebels.
Does he think the play is too radical?
"Radical? I think that is what we need. Mas radical, masmabuti na siguro ngayon kasi maitim na buto ng Pilipino, e, whether we like itor not. I'm part of that, but we should start moving now kasi kelan pa, di ba?"
ADVERTISEMENT - CONTINUE READING BELOW
Although many would remember Bembol for his appearances inmovies and television shows, ranging from the late Lino Brocka's opus, Maynila:Sa Mga Kuko ng Liwanag to his most recent television shows: Kapitan Boom,Asian Treasures, and Maging Sino Ka Man, only a few would knowthat the actor was once a stage performer.
The challenge for Bembol was to be able to interpret therole of Bishop Damaso, the modern-day character of Rizal's vicious friar,Padre Damaso. And since the actor had a very vague understanding of Noli MeTangere and El Filibusterismo, he relied on his own personalinterpretation of the character. By recalling his past experiences with theJesuit priests at the Ateneo de Manila and his other recollections dealing withpastors and bishops, Bembol was able to give a new twist to the character ofBishop Damaso.
Aside from his role, Bembol finds significance in the message of the play. He says, "Noli at Fili is aremarkable play that deals with issues that are important to us now." Becauseof the modern-day plot that allows the story to evolve around vital issues thatare essential in our society today, Bembol feels that the play willraise the consciousness of the viewing public—and raise some eyebrows.
Noli at Fili Dekada 2000 (Dos Mil) opens July18 at the PETA-Phinma Theater, PETA Theater Center. The play runs until August 24, every Friday,Saturday and Sunday with performances at 10 am and 3 pm.
For inquiries andreservations, please call PETA Marketing at 410-0821 or emailpetampro@yahoo.com. Schedules may change without prior notice.
Performance dates: July 18-20, August 1-3, 8-10, 15-17,22-24, 2008
Friday to Sunday
10 am and 3 pm
Venue: PETA Theater Center, 5 Eymard Drive (formerlySunnyside Drive), Brgy. Kristong Hari, New Manila, Quezon City