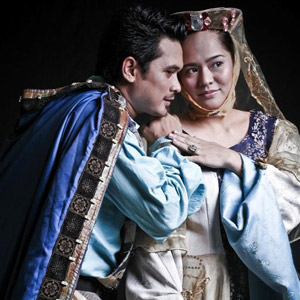 ---

Choreographedentrances, fast-paced skirmishes, an epic battle between warringChristians and Moors, and a romance that blooms, blossoms and enduresdespite the uncertainty of times—all these and more comes alive onstage as Gantimpala Theater ushers the beginning of its 31st year withFrancisco Balagtas' Florante at Laura, re-created as a modern day komedya.

Florante at Laura is a Filipino awit,a love story that happens in the kingdom of Albania. Florante is theson of Duke Briseo, betrothed to Laura, daughter of Haring Linceo. This Tagalog epic describes the many hardships that the relationship of the two lovers faced and how their lovewithstood the onslaught of tragedies. It also presents their unusualkinship with Flerida and Aladin, who are of Moorish lineage.

Thisawit is dedicated to Balagtas' sweetheart Maria Asuncion Rivera orSelya, who married Balagtas' rival Mario Capule. Despitebeing a love story, Florante at Laura had underlying nationalistictones that escaped the eyes of the Spanish censorship permitting it tobe shown in theatres and plays.
ADVERTISEMENT - CONTINUE READING BELOW

Gantimpala Theater reincarnates the classic awit as a komedya, considered as an authentic Filipino theater form.

This Roobak Valle-directed production stars Arkin Da Silva (Florante); Nelia Aguado (Laura); RonaldConcepcion (Adolfo); Dong Aturong (Duke Briseo); Pamela Hundana (ReynaFloresca); Abel Napuran (Haring Linceo); Abner Delina Jr. (BatangFlorante/Taga-Pagsalaysay); Christian Parado (Menandro); Billy Parjan(Antenor); Jerald Napoles (Sultan Ali-Adab); Yutaka Yamakawa (Aladin);Lailanie Ann Tejuco (Flerida) and Julius Empredo (Osmalik).

AssistingValle realize the world of Florante at Laura are Andy Villareal (LightsDesigner); Sergio Anlocotan Jr. (Choreographer); Charyl Chan-de Guzman(Production Manager); Lailanie Ann Tejuco (Assistant ProductionManager); Joey David (Stage Manager) and Tony S. Espejo (ArtisticDirector).

TonyEspejo, Gantimpala's artistic director says, "Our season once morefocuses on the educational role that live theater provides to ourstudent audiences and the general public. Our performances bring fleshand blood to the famous characters of the stories we dramatize, makingthem more believable and accessible to the audience. Wealso emphasize the values inherent in the stories and underscore suchvirtues as love for country, caring for environment and honesty, truthand justice. Watching Gantimpala's Florante at Laura is a lesson inPhilippine literature and theater history. I guarantee our audiencesthat this historical dramatization of the exploits of Florante and hisromance with Laura will make them appreciate our country's richliterary heritage."
ADVERTISEMENT - CONTINUE READING BELOW

Florante at Laura is fully supported by the National Parks Development Committee (NPDC).

Forinformation, bookings and ticket reservations please call: theGantimpala Theater Marketing Office, 899-5745/896-3503/474-5198 oremail: gantimpalaproduction@yahoo.com.ph

Performance dates:

July 27, 6 pm, Concert at the Park Open Air Auditorium inLuneta, Manila


August 1, 2, 3, 15 & 16, 10 am/2 pm, AFP Theater inEDSA, Quezon City


August 8, 9 & 10, 10 am/2 pm, SM South Mall inLas Piñas City


Venue: Concert at the Park Open Air Auditorium, Rizal Park, Manila