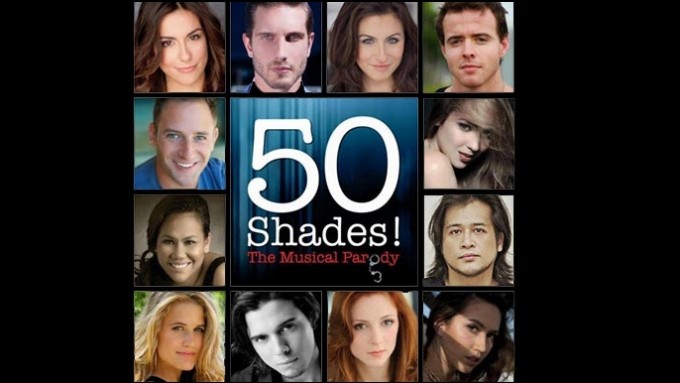 ---

Indulge your inner goddess and expect plenty of BDSM (Best Damn Songs and Music) from a musical play like no other.

50 Shades! The Musical Parody, a stage show inspired by E.L. James' popular erotic novel Fifty Shades of Grey, will be hitting Manila this February 2016.
The dominant-submissive relationship between Anastacia and Christian Grey comes to life with leather and handcuffs on stage in this hilarious musical as seen through the eyes of three girls.

Opening night for is set for February 12 at the Carlos P. Romulo Theater in RCBC Plaza, Makati.
Bituin Escalante, Karel Marquez, Lorenz Martinez, George Schulze, and Julz Zavard will join international thespians, including performers from the Off-Broadway and Las Vegas productions of 50 Shades! The Musical Parody.
Leading the foreign artists are Brenna Wahl, Greg Kata, Chloe Williamson, Kaitlyn Frotton, Chris Hodgson, Casey Renee Rogers, and Isaac Saleh.

50 Shades! The Musical Parody opens with a trio of girlfriends setting aside serious book club fare in favor of a sexier sort of page-turner. Interest piqued, they devour the novel while the delicious affair of Anastasia and Christian comes to life before their eyes.

The musical is an uproarious rollercoaster ride through this unlikely bestseller. The show features a sassy original score with musical influences ranging from traditional musical theater to R&B to Gilbert and Sullivan, including the provocative "I Don't Make Love..." and "There's a Hole Inside of Me."
ADVERTISEMENT - CONTINUE READING BELOW
Al Samuels, who co-wrote and directed the off-Broadway, UK, and US tour shows, will also direct the Manila production.
"It's so exciting to develop the Filipino version of 50 Shades!, working with many of the actors I have already worked with in the U.S., but now also with a whole host of great Filipino stars," said Samuels, "I think this combination will make for a great production, one that builds on the success the show has enjoyed around the world, but also with an awesome Pinoy flair."
Joining Al Samuels on the creative team are Robbie Guevara (Assistant Director), Mio Infante (Scenographer), Mindy Cooper and PJ Rebullida (Choreographers), along with Only Torres (Musical Director-Vocals), Daniel Bartolome (Musical Director-Instrumentation), Martin Esteva (Lighting Designer), and Myrene Santos (Hair and Make Up Designer).
50 Shades! The Musical Parody is promoted by Vivre Fort Entertainment and 9 Works Theatrical.
Tickets are now available at SM Tickets, Ticketworld, and TicketNet outlets. For more information about the show, visit www.50shadesmanila.com or call Tel. No. (+632) 470-6956.


ADVERTISEMENT - CONTINUE READING BELOW