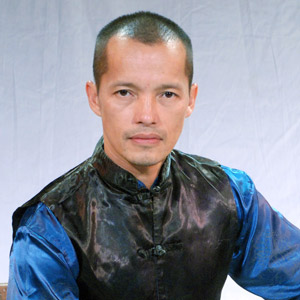 ---
Golden Child is a tale of the unbinding of a traditional Chinese household as it comes under the influence of Western culture. The playwright, David Henry Hwang, is the first Asian-American to win a Tony Award for Best Play for his Broadway hit M. Butterfly. His play Golden Child opens Tanghalang Pilipino's 22nd theater season on August 8 at 8 p.m.
This play is about Eng Tien Bin, a businessman who has spent years doing business in the Philippines, and his return to China in the early 20th century. Having been exposed to Christianity and Western ways, he sets about unbinding his traditional Chinese household. His efforts spark competition among his three wives, leading to unintended consequences. His daughter Ahn is the Golden Child of the story who narrates the Eng history to her son, Andrew.
Included in the cast of Golden Child are Obie-award winner Art Acuña as Eng Tien Bin/Andrew, three-time Aliw Award Winner Irma Adlawan-Marasigan as Siu Yong (First Wife), New-York based Tina Chilip as Luan (Second Wife), Liesl Batucan as Eling (Third Wife), Tess Jamias as Ahn, and Leo Rialp as Reverend Baines, with the Tanghalang Pilipino Actors' Company.
Golden Child is directed and designed by Obie Hall of Famer Loy Arcenas, the same director responsible for the award winning play The Romance of Magno Rubio. Costume design by Gino Gonzales, lighting design and technical direction by Barbara Tan-tiongco, and sound design and assistant direction by J. Victor Villareal.
Presented by the Cultural Center of the Philippines and Tanghalang Pilipino, Golden Child runs at the Tanghalang Aurelio Tolentino (CCP Little Theater) from August 8 to 31 with 8:00 p.m. performances on Fridays and Saturdays and 3:00 P.M. matinees on Saturdays and Sundays. Tickets are P600 with discounts for students, senior citizens and block sales. For tickets and sponsorships, please call Tanghalang Pilipino at 832-3661, or CCP Box Office at 832-3704 and Ticketworld at 891-9999.
ADVERTISEMENT - CONTINUE READING BELOW
SYNOPSIS. Andrew Kwong is visited in his dream by his long-deceased grandmother Ahn, who insists on telling him the story of her father once again to give him one last chance to make a new life.
Eng Tieng Bin's family in China awaits his return after spending several years of doing business in the Philippines. His three wives worry about the effect of his apparent interest in Western ways on a household where ancestor worship is observed and traditional rituals are practiced, setting off a power struggle among them.
After handing out gifts to his wives—Siu Yong, Luan and Eling—Tieng Bin announces that he has invited Reverend Baines, a British missionary, to visit him. He later orders the unbinding of Ahn's feet, contrary to tradition. It becomes clear that Tieng Bin has decided to turn his back on Chinese customs and convert to Christianity. His wives' worries become more pronounced: will he also choose just one woman as his chosen wife?
Tieng Bin's decision leads to consequences he did not anticipate. It is his prized offspring Ahn, his Golden Child, who encourages him to go back to the Philippines.
Performance dates: August 8, 9, 15, 16, 22, 23, 29, and 30 (8:00 p.m.)
August 9, 10, 16, 17, 23, 24, 30, and 31 (3:00 p.m.)
Venue: Tanghalang Aurelio Tolentino (CCP Little Theater), Cultural Center of the Philippines, Roxas Blvd., Pasay City