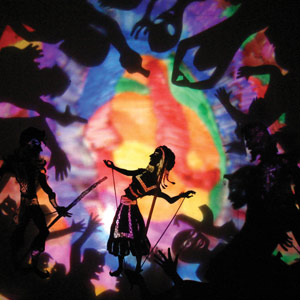 ---

Guess this riddle: "Hindi Tao, Hindi Hayop... MayBuhay?"
The answer: It's the title of a unique Filipino theaterevent that brings together six puppetry forms—black theater, ventriloquism,marionette, and rod, hand, and shadow puppetry—in one festival.
Samahan ng mga Papetir ng Pilipinas (SPP), in cooperationwith the Cultural Center of the Philippines (CCP), is set to launch the firstPhilippine Puppetry Festival on August 13, 14, and 15 at the Cultural Center ofthe Philippines Tanghalang Huseng Batute. This three-day event showcases thevery best in local puppetry.
The Black Theater of Manila (BTM) and ventriloquistOny Carcamo perform on August 13. BTM is an information dissemination arm ofthe Philippine Information Agency composed of "black theater"puppeteers trained in the USA, Japan, Indonesia, and Czechoslovakia. The group,established in 1978, experiments on the use of popular, folk, and low-costmedia in the development communication and develops information materials forkid and adult audiences. Ony Carcamo, a premier ventriloquist in thecountry, regularly tours the schools and adult comedy venues to helpre-introduce the ancient "voice-throwing" art form to local viewers.
On August 14, puppet plays of Anino Shadowplay Collective(ANINO) and Roppets Edutainment will be showcased to the public. ANINOis a group of multimedia artists dedicated to popularizing the art of shadowplay. Since 1992 it has been performing shadow narratives on Philippinetraditional art and literature, political history and contemporary culture. Roppetshas been using hand puppetry to educate and entertain since 1987. An honoree ofthe prestigious Who's Who in the Philippines and the National Consumer Council,it conducts field trips, school and mall tours, caters to birthday parties andother social events around the country, and maintains branches in Manila,Pampanga, Cebu, Negros, and Davao.
Teatrong Mulat ng Pilipinas and Tali Galaw close the eventon August 15. Teatrong Mulat ng Pilipinas (MULAT) was founded in 1977 byplaywright-director Amelia Lapeña-Bonifacio, a University Professor Emeritus ofthe University of the Philippines. It has been inspired by Asian puppet techniques such as the Indonesian wayanggolek and wayang kulit and the Japanese bunraku. Tali Galaw, establishedin 1995, is the first and only Filipino marionette group conducting regularperformances to promote and professionalize the art of marionette puppetry inthe country. Its plays promote Philippine history, culture, folktale,environmental protection, and good moral values.
ADVERTISEMENT - CONTINUE READING BELOW
There will be two performances each day (10 am and 1:30 pm).Tickets, priced at P200 each, are available at the Ticket World, the CCP (Tel.No. 832-1125), and the SPP (Tel. No. 439-1471) or email papetir@gmail.com.