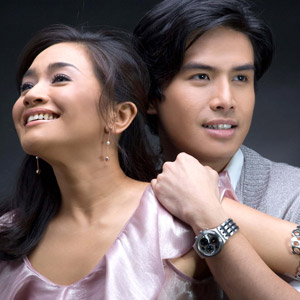 ---

The global appeal of West Side Story, anaward-winning stage and movie musical with music by Leornard Bernstein andlyrics by Stephen Sondheim, has urged Miss Saigon lead stars JoannaAmpil and Rowena Vilar to travel to the Philippines and be part of the majorrestaging of this Broadway play running at Meralco Theater from September 5 toOctober 12, 2008.
West End-based actress Joanna Ampil left thePhilippines 16 years ago to star in the London and Sydney productions of MissSaigon. In 1995, she recorded thefemale lead vocals in the international symphonic recording of the hit musical,which is the only official complete recording of Miss Saigon producedunder the personal supervision of composer-lyricist tandem of Claude-MichelSchonberg and Alain Boublil.
In 1996, Joanna was handpicked by Sir Andrew Lloyd Webber toplay Mary Magdalene in a new production of Jesus Christ Superstar at theLyceum Theater in London. Joanna has since filled in the shoes of musicaltheatre's most coveted roles including Eponine in Les Miserables (2000),Fantine in Les Miserables (2003 and 2007), Sheila Franklin in Hair(2005), and Mimi in Rent (2006).
Joanna will play Maria (alternating with GMA 7 TV host andsinger Karylle), opposite Christian Baustista's Tony in this STAGES productionof West Side Story. This isJoanna's first major musical theater assignment in the Philippines.
Meanwhile, Australian-born Filipina Rowena Vilar hasrecently played the roles of Kim and Gigi in the Australian tour of MissSaigon. She is in the same companyas Leo Valdez and Lauri Cadeviva (local R&B singer Kris Lawrence'ssister).
Rowena began her musical theatre career when she joined theAustralian tour of jukebox musical We Will Rock You (2004-2006), whichfeatures the songs popularized by Queen. She has then moved on to be a part of the Australian Arena Tour ofanother jukebox musical The Boy from Oz (2006), which starred HughJackman and directed by Kenny Ortega, who choreographed Disney's High SchoolMusical franchise and Dirty Dancing.
Rowena just arrived in Manila to play the role of Anita(alternating with local theater actress Pam G). The pure-blooded Filipina has been very enthusiastic about theopportunity working with West Side Story's cast, creative, andmanagement team.
ADVERTISEMENT - CONTINUE READING BELOW
West Side Story is an intense, dramatic dance musicalwith many show-stopping numbers and immortal songs like "Somewhere,""Tonight," "One Hand One Heart," "America," and"Something's Coming."
This STAGES' production of West Side Story is itsthird major musical after "Footloose" in 2005 and High SchoolMusical On Stage in 2007. MenchuLauchengco-Yulo is director; Gerard Salonga is musical director; Mio Infante isscenographer; John Batalla is lighting director; Bobbit Jacinto is sounddesigner; Eric Pineda is costume designer; and Audie Gemora is executiveproducer.
West Side Story runs at Meralco Theater on Sept. 5,6, 7, 12, 13, 14, 19, 20, 21, Oct. 3, 4, 5, 10, 11, and 12, 2008. For tickets, call Ticketworld at 891-9999 orSTAGES at 818-1111 loc. 225. Ticket prices rangefrom P500 to P1200.
STAGES' production of West Side Story is presentedthrough special arrangement with Music Theatre International (MTI) in New York.