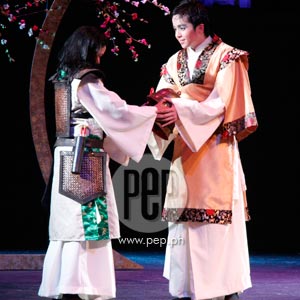 ---

Ten years after the release of the Walt Disney animatedfeature Mulan, Repertory Philippines will be staging the theatricalversion of the ancient Chinese legend. Cris Villonco, Cara Barredo, and CaisaBorromeo will alternate in the role of the real-life female warrior in MulanJr.

PJ Valerio, Reuben Uy, and Felix Rivera are alternates in the role of CaptainChang, the officer in charge of training new recruits of the Chinese ImperialArmy. Meanwhile, Red Concepcion, Robbie Guevarra, Rem Zamora, and ChevyMercado alternately wear the red mascot costume of Mushu, Mulan's dragon wannabe sidekick.


PEP (Philippine Entertainment Portal) was invited to watchREP's staging of the play based on the Disney film of the same name. One of thehighlights is the song "Reflections," which was performed by LeaSalonga in the animated film Mulan.
The opening number imposes upon the viewers the importanceof duty and upholding the family honor. Looking down upon the mortals are thefive ancestors of the Fa family. They are able to see the situation of Mulanbut since they are confined to the temple, they send Mushu, a demoted dragon,to aid her in her journey.
The headstrong Mulan fails to impress the matchmaker who istapped to pair the young girl with a suitable groom. In ancient China, womenwere only fit to be submissive wives to their husbands but Mulan goes againsttradition by disguising herself as a man and joining the Chinese Imperial Armyin place of her aging father.


Ping, who is actually Mulan in disguise, gains the favor ofCaptain Chang while he trains them to battle with the Huns. She shows herbravery and her intellect on the battlefield and ends up a war hero.
Repertory Philippines will be staging Mulan Jr. untilDecember 18, 2008 at Onstage, Greenbelt 1 in Makati City.

Special showings and group sales are available at discounted rates. Call8870710 for information about the upcoming productions, show sponsorships, andabout REP itself. Tickets are also available to Ticket World (Tel. No.891-9999).
ADVERTISEMENT - CONTINUE READING BELOW
Venue: Onstage, Second floor, Greenbelt 1, MakatiCity
Performances:
August 9 - December 18, 2008
Click
HERE
to view photos of
Mulan Jr.