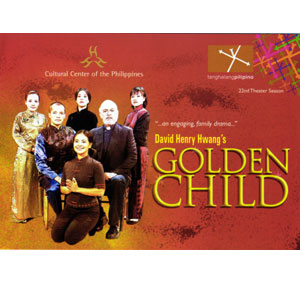 ---

The comparison is unavoidable. Tanghalang Pilipino's GoldenChild achieves in a couple of hours what the Chinoy-themed Mano Poseries failed to accomplish in five movies. This Tony and Off-Broadwayaward-winning play was written by David Henry Hwang based on interviews withhis Chinese grandmother.


Golden Child, the opening play of TanghalangPilipino's 22nd theater season, effectively dispels whatever misconstruedconcept of Chinese culture Filipinos have.
This is not the first time that director/set designer LoyArcenas has collaborated with David Henry Hwang (both of whom were presentduring the gala night last August 8 at the Cultural Center of the Philippines).Arcenas collaborated with Hwang for the New York staging of Golden Child andFace Value.
Arcenas, a Cebu-bornset designer based in New York, filled the Little Theater of CCP with layersand layers of see-through curtains that billow gracefully as the characterspass. The smell of incense fills the air as the cast members pray to theirancestors. Melodic tunes and heart-pounding music are used, all building upmomentum for the key scenes. This two-act play promises to be a treat for allthe senses as it showcases the richness of Chinese culture.

Golden Child is the story of Eng Tieng Bin as told to Andrew Kwong (bothplayed by Arthur Acuna, who received a special citation from the Obie Awardsfor his performance in The Romance of Magno Rubio in 2003).


Andrew, who lives in contemporary times, is bothered in hissleep by the spirit of his long-deceased grandmother Ahn (Tess Jamias), thedaughter of Eng Tieng Bin. She insists on retelling the story of Eng Tieng Bin,a businessman who returned to Fujian, China, after three years of doingbusiness in the Philippines.

After his exposure to Western culture—particularly Christianity, thanks toReverend Baines (Leo Rialp)—he is set to release his family from itstraditional bindings. His attempts to change his family's ways earn mixed reactionsfrom his three wives.

Eng Tieng Bin's First Wife, the traditional Siu Yong (played by IrmaAdlawan-Marasigan, who was incidentally part of two Mano Po films), isadamant against these changes. "How much change can people endure," she says inone of her confrontations with Eng Tieng Bin.

Meanwhile, Second Wife Luan (New York-based theater actress Tina Chilip) usesthese changes to earn the favor of her husband. She tosses aside her Chineseheritage to embrace Western clothing and a brand new religion just tomanipulate her husband.


Third Wife Eling (Liesl Batucan) is a simple-minded peasant girl whoexperiences conflict over her obligations as wife and daughter.
ADVERTISEMENT - CONTINUE READING BELOW
The words of Siu Yong about change resonate within the play,thanks to the vibrant Adlawan-Marasigan, who is always a joy to see onstage, onthe big screen (as an indie actress), or on the television screen(thanks to her stints in shows like Maging Sino Ka Man and Lobo).

The whole cast of Golden Child performs competently, which makes theproduction easier to watch especially for people who may find the intricaciesof the details of Chinese life too tedious. The whole play fits to togetherperfectly, thanks to the direction of Arcenas. Golden Child employs onlya few people but it captures the mood of a busy Chinese residence.
In an interview with PEP (Philippine Entertainment Portal)during the gala night, Hwang reveals that he was born and raised in Los Angelesbut he has Chinoy roots. "[The play] is based on stories that my [maternal] grandmothertold me about our family history. She told me these stories in Cebu. This is mythird time in the Philippines but I haven't been here since I was ten yearsold."


ADVERTISEMENT - CONTINUE READING BELOW
The play may be a semi-biographical story of Hwang'sChinese relatives yet the themes of change and culture transcend the boundariesof race. The keen viewer will see that while
Golden Child
shows so muchdetails about Chinese culture on the outside—their practice on worship, theirbeliefs on family—it also speaks volumes about Filipino culture.
Pinoy culture, after all, is an amalgam of traditions from various races.The conflict of Siu Yong might as well be the conflict of the people who wantto preserve the country's culture, while the scheming of Luan is similar to whatpeople do these days to cope with foreign influence in the country.
Presented by the CCP and TanghalangPilipino,
Golden Child
runs at the Tanghalang Aurelio Tolentino (CCPLittle Theater) until August 31 with 8:00 p.m. performances onFridays and Saturdays and 3:00 p.m. matinees on Saturdays and Sundays.Tickets are P600 with discounts for students, senior citizens and blocksales. For tickets and sponsorships, please call Tanghalang Pilipino at832-3661, or CCP Box Office at 832-3704 and Ticketworld at 891-9999.