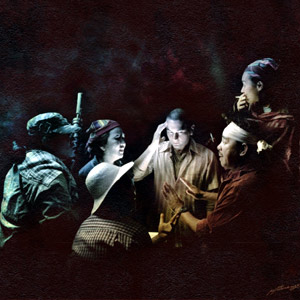 ---

Noli at Fili Dekada 2000 (Dos Mil) is an adaptation of Dr. Jose Rizal's two novels: El Filibusterismo andNoli Me Tangere. The two-act play opens with a re-creation of a flashflood, using showerheads placed over the actors.
The Philippine Educational Theater Association showscorruption in society through the fictional story of a mayor turned guerillanamed Ibarra Marasigan. As the modern-day Crisostomo Ibarra, he discovers thatthe police and public officials are allowing illegal logging in the forests ofthe Sierra Madre in exchange for money.

While fighting against corruption, Ibarra's love affair with his fiancée,Clarissa Santos (the modern-day Maria Clara) ends. The scorned lover becomes Ka Simoun of the National Liberation Army and seeks revenge against those who caused his suffering.
This play stars Lex Marcos as Ibarra and Julia Enriquez asClarissa. Singer-theater actor Robert Seña plays Provincial Commander ColonelSalvador (Salvi) Salvatierra while Bembol Roco alternates with Bodjie Pascuafor the role of Monsignor Damaso, bishop of the newly established diocese ofSan Lorenzo.
Noli at Fili, written by Nic Tiongson and directed bySoxie Topacio, runs every Friday, Saturday and Sunday at thePETA-Phinma Theater until August 24.
For inquiries and ticket reservation, please contact PETA Marketingand Public Relations Office at 410-0821/ 725-6244.


Performance schedules:
August 21, Thursday, 3:00 pm
August 22, Friday, 10:00 am and 3:00 pm
August 24, Sunday, 7:00 pm

Venue: PETA Theater Center, 5 Eymard Drive (formerly Sunnyside Drive),Brgy. Kristong Hari, New Manila, Quezon City