The fifth and current run of the hit original Filipino musical Rak of Aegis is down to its last few shows this month of August.
According to Rak of Aegis's director Maribel Legarda at the press launch, the show's last three weekends will be "dedicated to help raise funds for the sustainability" of the Philippine Educational Theater Association (PETA).
PETA is the theater group behind Rak of Aegis, among other remarkable productions, and it will celebrate its 50th year next year with a mix of old and new plays such as Caredivas and Ang Buhay ni Galileo.
Legarda did not divulge what lies beyond PETA's golden anniversary, but she tellingly announced: "This might be your last chance to catch Rak of Aegis!"
And, so, let us count the ways why you people who haven't seen this musical should do, pronto!
For starters, Rak of Aegis features the vocally challenging and emotionally stirring songs of the incomparable rock band Aegis—"Luha," "Halik," "Basang-basa sa Ulan," to name a few.
The story, written by noted playwright Liza Magtoto, is simple and clear yet multi-dimensional and relevant.
It is told mostly through song numbers that are cleverly arranged by musical director Myke Salomon, engagingly performed by the topnotch cast, and rousingly staged by the entire team.
Now, all the audience members have to do is sit and enjoy the show.
The story is about Aileen, the only child of luckless shoe store workers Kiel and Mercy, and they all live in a flood prone urban community named Barangay Venizia.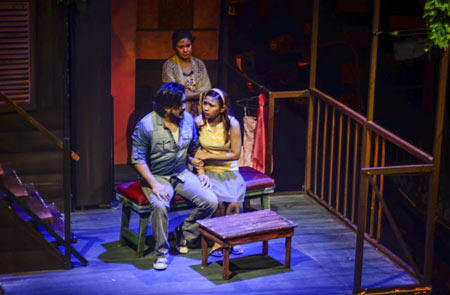 Courtesy of Converse Philippines



For two months, Barangay Venizia has been submerged in floodwaters, causing many problems and frustrations to its dwellers, especially its barangay captain Mary Jane, who's also the shoe shop owner and a single mother to Aileen's childhood sweetheart and suitor Kenny.
Aileen has a seasonal job as a saleslady and a permanent dream of becoming a famous singer. She thinks that the best way to reach her goal is to make an amateur music video that she'll upload on YouTube and will hopefully get noticed by American TV show host Ellen DeGeneres.
Ellen has a widely followed and eponymously titled chat program, The Ellen DeGeneres Show, where YouTube sensations like Filipino singer Charice have appeared as guests and subsequently got worldwide acclaim.
In producing her music video, Aileen enlists the help of Kenny. But Kenny has his own issues, particularly his relationship with his mother, so he can't focus on helping her.
The persistent dreamer finds an ally in another neighbor, Tolits, a boatman who traverses the floodwaters to bring his passengers in and out of the village safe and dry. He also has a secret crush on Aileen.
While feeling down and out, Aileen sings her heart out and Tolits captures her powerful performance in the middle of the flooded urban dwelling. She uploads her video. It becomes viral, and she gets the public's attention, enough to be offered a concert gig to be held right in her wet neighborhood.
But then, a mysterious rich man named Fernan appears in Barangay Venezia. He makes a deal with Kapitana Mary Jane, whose encouragement of Aileen's concert runs against Aileen's father Kiel's principles. It turns out that Mary Jane and Kiel have a bittersweet past.
Fernan's connection to Barangay Venizia puts in danger Aileen's concert and, in the process, her stellar dream. Additionally, Aileen has to choose between Kenny and Tolits.
What's a girl to do?
The resolution is just icing on the cake because at this point, audience members are guaranteed to have already fallen in love with the production numbers, the characters, and the actors.
Since its inception in 2014, Rak of Aegis has had a few tweaks, particularly in the Fernan role. It has also grown in size, from a team of 14 people to 41 to date.
The changes have only made the musical more interesting to watch. In the 2016 run, the production design has been enhanced and the production numbers have been improved. The show is more visually appealing with a faster pace and less dull moments.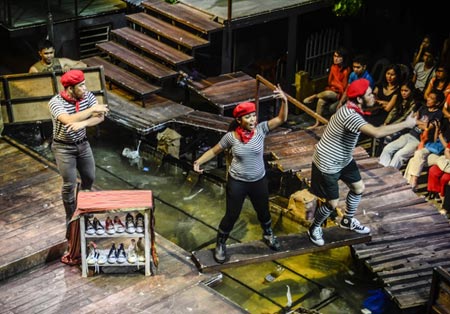 Courtesy of Converse Philippines




There are more actors now sharing the same role. For instance, Aileen is played alternately by Aicelle Santos, who originated the role, her successor Kim Molina, and new recruits Tanya Manalang and Alisah Bonaobra.
The other new recruits are Tricia Jimenez and Joann Co (for the role of Mercy), Carla Laforteza (as Mary Jane), Vince Lim (as Kenny), and John Santos (as Fernan).
Returning cast members reprise their roles: Jerald Napoles, Pepe Herrera, and Benj Manalo (as Tolits); Myke Salomon and Poppert Bernadas (as Kenny); Kalila Aguilos, Sweet Plantado, and Stella Mendoza (as Mary Jane); Julienne Mendoza, OJ Mariano, Lorenz Martinez, and Renz Verano (as Kiel); Kakai Bautista, Neomi Gonzales, and Lani Ligot (as Mercy); Julienne Mendoza and Nor Domingo (as Fernan); and Jimmy Marquez, Phi Palmos, and Ron Alfonso (as Jewel).
And the rest of the outstanding ensemble: Jet Barrun, Ginbey dela Cruz, Gio Gahol, Carlon Matobato, John Emmanuel Moran, Gab Pangilinan, Paeng Sundayan, Abi Sulit, Via Antonio, Teetin Villanueva, Rei Calilong, and Raflesia Bravo.
With several actors playing the same role, there are also different sets of cast performing. This makes the show practically fresh all the time and keeps the audience returning for a repeat view.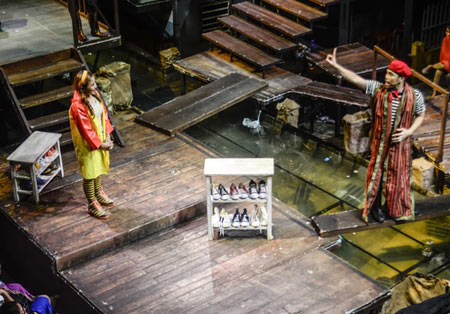 Courtesy of Converse Philippines



"The chemistry here is not set," director Maribel Legarda pointed out during the launch. Indeed, actors—especially those playing the lead roles of Aileen, Kenny, and Tolits—have to find a way to work well with each other.
This includes dealing with the disparity in age. A case in point is the pairing of Alisah Bonaobra as Aileen and Pepe Herrera as Tolits. Alisah is best known for finishing as runner-up in The Voice PH Season 2.
The two cast members are outstanding individual actors and singers, but together as a romantic pair, they look awkward at times. It doesn't help that at 21, Alisah looks like a bubbly teenager, while Pepe is mature beyond his 29 years.
But, of course, that detail doesn't make much a dent in the overall appreciation and enjoyment of the show. In fact, it makes viewers want to watch the other pairings, make comparisons, and decide which is the best.
Indeed, there are just so many reasons to watch Rak of Aegis.
Rak of Aegis runs until August 28, Tuesdays to Fridays (8 p.m.) and Saturdays to Sundays (3 p.m. and 8 p.m.) at the PETA Theater Center in New Manila, QC. For tickets, contact PETA at Tel. No. (02) 725-6244 and through www.petatheater.com

Or call TicketWorld at Tel. No. (02) 891-9999 or visit www.ticketworld.com.ph