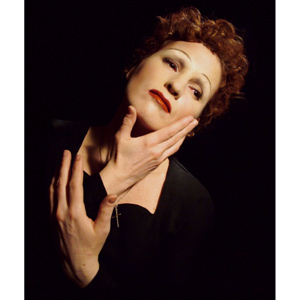 ---

Edith Piaf is still remembered and revered as one of thegreatest singers France has ever produced. Her life was one of sharpcontrasts—her fame as opposed to her tragic personal life, and her fragilefigure with the resonance of her voice. Her iconic presence lingers on. Justlast year, Marion Cotillard won the Oscar Best Actress trophy for herscintillating portrayal as Piaf in the film La Vie en Rose.


This year, MusicArtes Inc., the company that brought the critically acclaimedmusical play, After Aida, brings to Manila a passionate musical drama byRoger Peace billed as Piaf: Love Conquers All.


This musical drama presents the tribulations and triumphs of the remarkableFrench chanteuse who despite her small frame, (she stood only 4'10"), becamelarger than life with her evocative voice and the unmatched passion she givesto her every song. Piaf's life story is an inspiring story of survival, courageand a woman's unwavering faith in love.


Born in 1915 in the streets of Paris in abject poverty, Piaf rose tointernational stardom. Her voice is unique and her music reaches throughgenerations and across oceans. Though extremely successful, she struggled withmorphine addiction and alcohol abuse. Rheumatism crippled her health but shenever stopped singing. Ms. Emmerson, as Piaf, invites the audience to share acocktail while she shares anecdotes of her passion for men, music, andmorphine.


Through Peace's intimate and touching script, audiences will witness Piaf'slife and loves, her rise from the slums of France to international stardom. Allthese complemented by Piaf's signature renditions of "La Vie En Rose," "Milord," "Non, Je ne Regrette Rien," tomention a few.


Naomi Emmerson is also the director, set and costume designer of Piaf,with Adam Blanshay as associate director. Supporting artist is New York basedpianist Carmela Buencamino-Sinco. MusicArtes's Executive Director is JayValencia Glorioso.


Piaf: Love Conquers All will open in Manila on October 9, 10, and 11, 8p.m at the BDO Francisco Santiago Hall (formerly PCI Bank), Makati City,co-presented by the Buencamino Foundation and the Philippine CharitySweepstakes Office.


Ticket prizes are P1,500 (orchestra) and P750 (balcony). For more informationon bookings and reservations, call 895-8098/751-2243 (look for Ms. Baby Castro)or write to musicartes.manila@gmail.com.


ADVERTISEMENT - CONTINUE READING BELOW