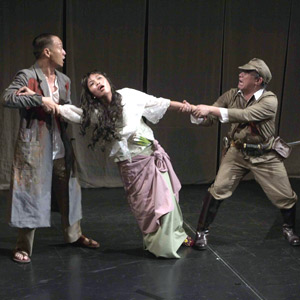 ---

In collaboration with Black Tent Theater of Japan (BTT) andNottle Theater of Korea (NT), the Philippine Educational Theater Association isstaging an adaptation of Giacomo Puccini's TOSCA.
Directed by Soxie Topacio of PETA and Kiritani Natsuko ofBTT, this adaptation focuses on the issues of war, gender, art, politics, life,and death while exhibiting elements that are true to the Asian culture, historyand heritage.


Foreign actors Lee, Ji-Hyun (Nottle), Hiraiwa Sawako (BTT),Kiritani Natsuko (BTT), and Motoki Sachiyo (BTT) are tapped to play Tosca.Joining them are Hattori Yoshitsugu as Mario and Aikawa Toshiyuki as Scarpia.From PETA, Bernah Bernardo portrays Tosca, Wil Casero plays Angelotti, NorDomingo plays Mario, and Raffy Tejada is Scarpia. Kota Kadoaki of BTT is alsocast as a soldier.
Tosca runs from August 29-30, 2008 every 2:30 and7:30 pm at the PETA-Phinma Theater, PETA Theater Center. Tickets are priced atP200 for regular walk-in buyers and P150 for students.
SYNOPSIS. Tosca is an opera in three acts byGiacomo Puccini based on Victorien Sardou's drama, La Tosca. Consideredas one of the most dramatic of operas and a staple of the standard operaticrepertoire, Tosca appears as one of the most-performed operas in NorthAmerica as a strong dramatic work that combines lush melodies and a grippingplot with the color, pageantry and power of the nineteenth century RomanCatholic church.

This year, the Philippine Educational Theater Association together with BlackTent Theater of Japan and Nottle Theater of Korea will be creating an Asian Tosca.Reworked to firmly place the Victorian drama into an adapted Asian narrative,this version of Tosca exhibits elements that are true to the Asianculture, history and heritage.
Narrating visions of passion, jealousy, betrayal and revengeand reconfiguring today's situation with the proposal to the future, Asian Toscaaims to exceed the limit of a usual one-off project while touching issues aboutart, politics, life, death, war and gender.
ADVERTISEMENT - CONTINUE READING BELOW
Tosca is showing at the PETA-Phinma Theater at thePETA-Theater Center on August 29 and 30, with shows at 2:30 pm and 7:30 pm. Forinquiries and ticket reservation, please call 4100821/7256244 or emailpetampro@yahoo.com.