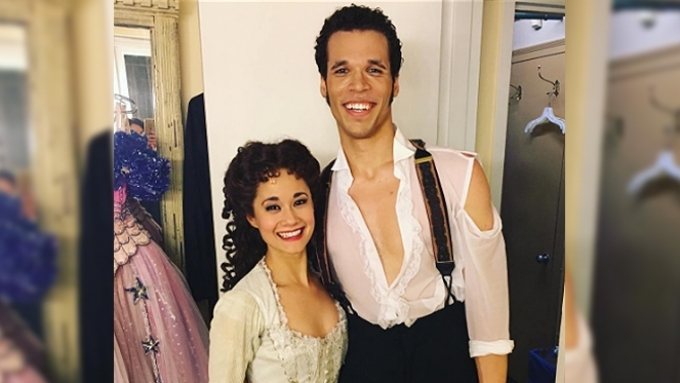 IMAGE @phantombway on Instagram
---

Filipino-American actress Ali Ewoldt is breaking boundaries in musical theater as she headlines the longest-running Broadway show The Phantom of the Opera.

Ali is the the first woman of color to be cast as the lead character Christine Daae in Andrew Lloyd Weber's musical since it opened in London's West End in 1986 and in Broadway in 1988.

Meanwhile, her co-star Jordan Donica is the first African-American to play the role of Raoul, Christine's love interest.

Ali and Jordan have been playing the roles of Christine and Raoul, respectively, since June.



Ali was born in Chicago to a Filipino mother named Leah Anolin-Ewold. She was raised in Pleasantville, New York and grew up watching different Broadway shows. She started dancing at the age of 3 and singing at the age of 10.
Ali has been fond of doing theater plays since her earlier years. She finished high school with flying colors and took Psychology at Yale University.



With this new feat, the 36-year-old actress believes she can give justice to the role.
She told Walter Ang of Inquirer.net in an interview, "Being the first Asian-American Christine on Broadway is an honor and, also, I believe, comes with a bit of responsibility. I want to demonstrate that this incredible story can be told regardless of my personal ethnic background."
Ali debuted on Broadway in 2006, playing the role of Cosette in the the revival of Les Miserables where she starred with Glee star Lea Michele who played the role of Eponine.
In an interview with Minnie Roh for CUNY TV's Asian American Life, Ali named fellow Filipina theater star and Tony award-winning actress, Lea Salonga as one of her biggest influences. It will be recalled that Lea also played the role of Eponine in the musical's 10th anniversary back in 1995 and Fantine in its 25th anniversary concert in 2010.
ADVERTISEMENT - CONTINUE READING BELOW
Ali narrated, "She was a huge inspiration for me growing up. I get to see her play Eponine in Les Mis and I saw her play Kim in Miss Saigon and especially getting to see her play Eponine, you know.
"Here she was, a Filipino woman playing a French role and being amazing at it and the audiences loved it and the producers loved it and it was a wonderful thing. So for me, as an Asian-American, it's very inspiring to watch someone pave the way."



Towards the end of her interview for the TV show, Ali hopes that her achievement will also serve as an inspiration and open more doors for persons of color especially in an industry dominated by Caucasians with Asian characters being "white-washed."
She noted, "What stories are we telling our children? Who are we inspiring? Talking about it makes me like emotional somehow. But you know what I mean. It makes it bigger than, you know, that just playing a dream role on stage."