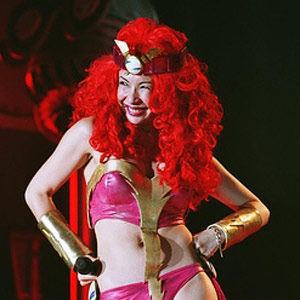 ---

Watch the Live A.I.D.S. 24: Round the Clockang Halakhak, a celebration of creativity and compassion featuring thecountry's most notable and promising artists, starting this Friday, September12.
Behind this annual show is the UP Samahan ngMag-aaral sa Komunikasyon (UP Samaskom), a duly recognized organization basedin the University of the Philippines College of Mass Communication. Founded in1974, the group is composed of diversely talented students from all walks ofthe university, who have what it takes to rise above the others.

Among its alumni are Giselle Sanchez and Tuesday Vargas and theinfamous Ate Glow; Wency Cornejo and Raymond Lauchengco; theater actor RSFrancisco; prima ballerina Melanie Motus; band performers Miro Valera ofStonefree and Kris Gora of Cambio; directors Jeffrey Jeturian, Lauren Dyogi,Jerry Sineneng, Connie Macatuno and Cholo Laurel; fashion industry's ShahaniGania, Inky Santiago-Nakpil and Concon Siñel; as well as broadcasters LeiAlviz, Tina Panganiban-Perez, Riki Kwek, Justine Letargo and Kim Atienza.

They—along with countless media practitioners, musicians,directors, artist managers, creative directors, script and news writers whocall themselves Samaskom alumni (now numbering about 1000)—went through thesame pains and unique bonding that bring all Samaskomers together.

Live A.I.D.S. (Ang Istoryang Dinebelop ng Samaskom) is ahilarious and one of a kind musical-comedy-variety show written, choreographed,directed and produced solely by the members of UP Samaskom. Its initial debutin 1985 gave birth to an annual standing-room-only event anticipated not onlyby the entire U.P. community but also by the other nearby universities. LiveA.I.D.S.' must see performances gained popularity year after year, givinglaughter to students, faculty and others who simply want sheer entertainment.
The secret of itssuccess lies on the incredible talent shown by the resident members and alumni.The much-awaited event features hilarious spoofs ofcurrent events, television commercials, newsmakers, as well as excitingproduction numbers with original musical scoring and choreography that fit theconcept of the show.
ADVERTISEMENT - CONTINUE READING BELOW
Show dates are on September 12 (7 pm),September 13 (3 and 7 pm), and September 14 (3 and 7 pm) at the Dalisay AldabaRecital Hall, UP Theater, in UP Diliman.
For ticket inquiries and reservation, contactKharleigh at 09065701312.