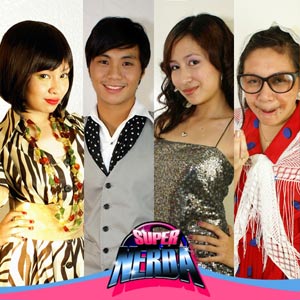 ---

Not all superheroes are created equal. Meet Super Nerda, the new heroine set tochange the face of superheroes in a two-hour musical production to be staged byMediartrix of the University of Santo Tomas. Six shows are scheduled on Mondayand Tuesday, September 15 and 16.

Super Nerda follows the adventures of ramp model-turned-super heroine,Verna (Anjo Soriano) as she completes the task given to her by a mysterious oldlady (Erithe Cordero) to get what she has always wanted--for her parents to beproud of her.
Verna then uses the enchanted piece of lingerie to transformherself into the unconventional, non-stereotypical, and butt-ugly "SuperNerda" (Lhen Hasal) and accomplish her mission of saving three lives in aspan of only one week.
Super Nerda has to complete this daunting task or she wouldnever get what she has wants and more so, lose everything she has worked for.The task would've been easy for Verna not until her friend Sue (GladysPagdato), who has an axe to grind, together with her loyal accomplice andsuitor Emmerjun (Alvin Adriano) finds out her identity and tries to stop her.
Unknowing of Sue's dark plans, Verna continues to save livesand make good deeds, in the end realizing a whole new meaning and purpose inlife--not to mention realizing a long-kept feeling for her best friend's olderbrother Sid (Anjo Ressureccion).
Will Verna be able to accomplish her task and get what shehas always wanted? What will she do if she has to choose between her destinyand the man she truly cares for?
Mediartrix is a university wide, non-political, student-run,multi-media organization of and for art enthusiasts of UST committed todiscover, encourage and nurture Thomasian talents, skills, and appreciation inthe fields of performing, literary and visual arts.
Don't miss the hilarious stage play Super Nerda basedon the script and direction of Jan Kristoffer Enriquez and Prince Perma, andproduced by Jappy Molina. For inquiries, please contact 09267023027 or09166399490.
ADVERTISEMENT - CONTINUE READING BELOW
Performance dates:
September 15 and 16 (10 a.m., 2 p.m., and 6 p.m.)
Venue:
Albertus Magnus Auditorium (Education Bldg.) in the University ofSanto Tomas, Espana, Manila.