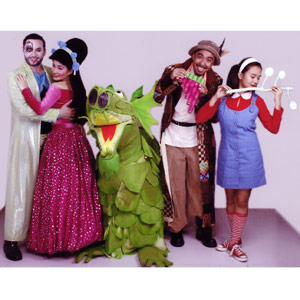 ---

The Philippine Opera Company (POC) will open its secondseason with a fantasy production that will take audiences to a magical placewhere there are animated characters and even a talking dragon.
The MagicFlute is a fantasy masterpiece that combines animation, black theater, andpuppetry performed by live artists. Wolfgang Amadeus Mozart's opera has beenmodified with the addition of a character called Ana, a little girl who isable to enter the magical world of Prince Tamino through a magic flute.
This mysteriousmusical instrument opens the door and carries her into a magical world. As shesuddenly realizes that she has entered a different realm of reality, Ana findsherself entangled in the lives of various supernatural beings from a higherkingdom.
With the powers of the magic flute in her possession, sheencounters and victoriously conquers all sorts of tests and trials as she meetsPrince Tamino, Princess Pamina, the bird man Papageno, a talking dragon, theHigh Priest Sarastro, and the Queen of the night. A magical adventure filledwith exciting music, spectacular dances, amusingly strange characters, andvaluable lessons to learn makes The Magic Flute a must-see for the youngand young at heart.


Be prepared to see Bodjie "Kuya Bodjie" Pascua of Batibotfame sing opera since he is cast as Papageno. Jack Salud will play the roleof Tamino, Fame Flores will be Pamina, and Lara Maigue will be theflute-bearing Ana.
This kid-oriented opera will open on September 19-27 at theCCP Little Theater and will be directed by Kokoy Jimenez, the man behind thelongest-running children's educational television program, Batibot.

For the past nine years, the POC has been mounting operas for local viewers. It isnow the home of seasoned and promising opera singers in the country. This year marks the group's first decade of delivering world-classentertainment to Filipinos.
Performances: September 19-27, 2008

Venue: Little Theater, Cultural Center of the Philippines, Roxas Blvd.,Pasay City


For tickets, block sales, and sponsorship inquiries, please contact the Philippine Opera Company at 892-8786 or Ticket World at 891-9999.



ADVERTISEMENT - CONTINUE READING BELOW