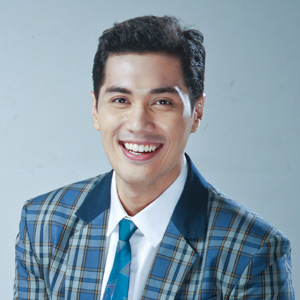 ---

Aftera three-year break from theater, Gian Magdangal returns to the stage in STAGES'production of West Side Story. His towering height of six feet gives him acommanding presence on stage and an advantage for his rough and tough role asleader of the American gang, Jets. Even though the role of Riff is far from hisreal-life self, he is very determined to do the role. "I'm soft-spoken and abit laid-back while Riff is totally the opposite," Gian shares. "But with thehelp of director Menchu Lauchengco-Yuloand co-star Jaime del Mundo (playing Doc), they helped me create thecharacter of Riff."
PlayingRiff is actually one of Gian's dream roles but he didn't expect it to comeearly in his career. At first, he was even hesitant to accept the role, butwith the encouragement from executive producer Audie Gemora, he agreed to take on this very challenging role.
Ina previous interview with PEP (Philippine Entertainment Portal), Gian pointedout the West Side Story is one of the most difficult plays that amusical theater actor could ever do. This is how he describes his character:"Riff is the leader of the Jets, which Tony is part of. He's veryconfident, he's slick, he's smooth, he's cool all the time. Siya yung lagingpinakamabilis na mag-isip sa kanila. He's also a best friend to Tony."
Giansays that he almost turned down the role of Riff in West Side Story."Muntik na akong mag-back out. Sabi ko, parang hindi ko kaya. Tito Audie[Gemora] was just one of the people who really convinced me. Watching themovie, reading the script, and watching the dance steps, sabi ko, 'Parang hindiko kaya. Napasubo 'ata ako dito.' Mahirap siya, hindi biro talaga. I wanted todo Tony also but I'm now an understudy of Christian [Bautista]. This is alsovery hard since Tony should be a good singer, he should be in love with twowomen, he should be passionate."
ADVERTISEMENT - CONTINUE READING BELOW
Butwhen he finally decided to accept the challenging role of Riff, the singer-TVhost made every effort to play his part well.
"Istudied the character very well," he explains. "I made a character sketch toflesh out Riff very well. I took note of his likes, dislikes, pet peeves, andmany more. I also asked myself, 'who is Riff in my life?' I pegged some of myfriends together to form the Riff in me. I even thought of my idols like Robin Padilla and imagined him a NewYorker, and it was effective." But more than the songs and what the role ofRiff demands, Gian finds his entrances and exits a bit difficult to studybecause it requires timing and coordination with other cast members especiallyfor most of the dance sequences.
Eventhough this is Gian's most challenging role thus far, his ultimate dream is toplay the part of Tony. This is not impossible from happening since he is theunderstudy for Christian Bautista."In case Christian becomes suddenly unavailable to play the part, I will takeover," Gian says. "So I studied the parts of Riff and Tony." Gian finds Tony tobe a very emotional role, and sees himself as more of the romantic type ratherthan a hard-hitting guy.
Asidefrom working with his theater friends, Gian feels honored to work with some ofthe best thespians in the world. In just about two months, he has made newfriends in the company of Joanna Ampiland Rowena Vilar. "They are veryapproachable that you wouldn't think they are big stars," Gian comments. "Theyare very down to earth and it's a very humbling experience for me." The castgets to bond with each other because of their everyday rehearsals from Mondayto Saturday starting at 10 a.m. to 4 p.m. "I don't know but there's just thisthing about theater that attracts me to it," Gian affirms. "Even if it consumesa lot of time, it's really worth all my efforts. I know it's a sacrifice but itcan only do me good."
ADVERTISEMENT - CONTINUE READING BELOW
Justlike his idol Gary Valenciano,Gian started his singing career by joining the choral group Kundirana during his high school daysin La Salle. This later on led him to join Trumpets Playshop under seasoned directors Freddie Santos and Sweet Plantado of The Company. Soon enough, he foundhimself as part of the boy band 17:28,which released two albums, and produced the hit song Sukob Na. After which, his theater involvements started pouring in.Some of his theater credits, mostly supporting roles, include Beauty and the Beast, The Little Mermaid, Man of La Mancha, Joseph theDreamer, and Saturday Night Feverwhere he demonstrated his talents in disco dancing as Tony Manero. There's areason why he was given an award for "Best Performance by a New Male Artist" inthe 2006 Awit Awards, and was awarded the "Most Promising Male Singer" by the2008 Guillermo Awards Foundation.
Gianconsiders singing as his passion and theater as the opportunity provider forhim in fulfilling his dream. He really dreams of becoming a pop star someday,and theater is slowly paving the way for him to achieve this. In fact, afterlanding on the top 3 of the reality TV show PhilippineIdol, he got a network contract. He is a regular in the Sunday noontimevariety show SOP (Sobrang Okay,Pare!). Someday, he also hopes to do some acting work on television like beingpart of a soap opera.
Indeed,Gian never stops dreaming, and has a long and promising path ahead of him.After his West Side Story stint, Gianwill continue working on his debut album under Sony-BMG. Despite his busy schedule,he still manages to be a full-time dad to his 3-month-old son Gian Haley.


West Side Story'sremaining play dates are on September 19, 20, 21, October 3, 4, 5, 10, 11,and 12, 2008. For tickets,call Ticketworld at 891-9999 or STAGES at 818-1111 loc. 225.Ticket prices range from P500 toP1,200.


ADVERTISEMENT - CONTINUE READING BELOW
PEP is a media partner of STAGES for
WestSide Story
. This play is presentedthrough special arrangement with MusicTheatre International (MTI) in New York.
PEP PROMO.
A lucky PEPstercan win two tickets to the October 5 show of
West Side Story
, which isbeing staged at Meralco Theater in Pasig City. Consolation prizes are also instore for six other PEPsters.
Click this link to answer the question and jointhe electronic raffle.
http://www.pep.ph/pepid/peploot/promo.php?id=15