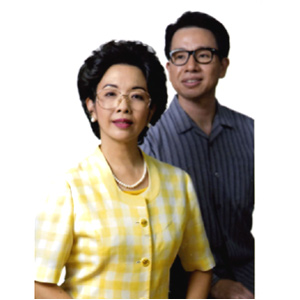 ---

As soon as composer-song writer Lourdes "Bing" Pimentellearned about the colon cancer of former Philippine President Corazon Aquino,she immediately thought of presenting a gift to her.
Bing, the wife of opposition Senator Aquilino Pimentel,recalled that Cory was pleased when she watched the 2007 play Pag-ibig saBayan. Incidentally, this musical is based on the life of Senator"Nene" Pimentel and Bing in the Martial Law era.

"Natuwa siya nung nanood siya ng Pag-ibig sa Bayan kaya naisipan konggumawa ng play na Cory the Musical. Hindi ako nagpaalam sa kanya kasiwhen you give a gift, you don't ask permission. Pero pinagsabihan ko yung anakniya na si Ballsy [the eldest child of Cory and Senator Benigno "Ninoy" Aquino]at nagpasalamat naman siya."

Mrs. Pimentel then tapped Nestor Torre, the director of Pag-ibig sa Bayan,to helm this production. Produced by the Buhay Isang Awit Foundation, Inc., Corythe Musical will be staged at the Meralco Theater on November 29, 30, andDecember 1.
THE LADY IN YELLOW. Cory will be played by singer-actressIsay Alvarez, who distinguished herself for playing Gigi in the originalproduction of Miss Saigon along with Lea Salonga and Robert Seña whomshe eventually married. Isay was last seen in the hilarious PETA musical SkinDeep, which tackles Filipinos' penchant for cosmetic beauty enhancement.
How did this play affect how you now see President Cory?Isay tells PEP (Philippine Entertainment Portal), "I think my perception ofCory has changed. When I started reading a lot of materials about her, naiintindihanko siya, where she is coming from and now when she's 75 and she's still tryingvery hard to be part of the society, trying to bring out the good in everyFilipino."
What was her greatest challenge in playing Cory?
"Iniisip ko nga ipi-physicalize ko ba ang pagiging Cory kokasi when you see napakatimid ko or napakahina kong magsalita but when you...ifyou read about her or see what happened to her, hindi siya pwedeng ganoon,e. She cannot be that strong a personif she is always timid and always composed. Kaya siya ganoon because she isreally a strong person and she has gone through a lot."
ADVERTISEMENT - CONTINUE READING BELOW
Isay admits that she was initially wary of portraying thelife of the first female President. "August palang gusto ko nang mag-back-out,"she confides. "Mahirap yung role, hindi madali. From 75 years old, then I goback to her being dalaga, mga 20 years old. Nag-age, nag-age, then naging 75ulit, then bumata ulit. Maganda para sa isang actor, very challenging."


Fanny Serrano was in charge of handling the make-up of Isay as she matures inher role. Isay will use around three wigs in order to show the aging process ofCory.
The theater actress stressed the hardships that the wife ofSenator Ninoy Aquino went through during the Martial Law years.


"This [role brings out] the actor in me and the singer in me. Mahirap yung timeni Cory kasi very emotional tapos kailangan composed pa rin. The only time thatwe see her getting angry, crying was during the time when Ninoy was in prison,she had to take care of her children. You'll really see the other side of her."
She continues: "Sabi ni Nestor, we want to see a differentside of Cory here na talagang nagagalit siya...mag-kaaway sila ni Ninoy, which isvery normal kasi tao si Cory di ba? Taosila. Yung time na sinabi ni Ninoy na'I am going to come home,' she knew it could be death for Ninoy, the end of thefamily."
Written and directed by Nestor Torre, Cory the Musical willshow the life of Cory from her childhood until she is sworn in as the firstfemale President of the Philippines as a result of the 1986 People PowerRevolution.
Slain political leader Ninoy Aquino will portrayed by SherwinSozon. Other cast members include Robert Seña as former President FerdinandMarcos and Pinky Marquez as former First Lady Imelda Marcos.
When asked who will play Kris Aquino in this musical play,Isay points out with a laugh, "Bata ang gaganap sa kanya kasi maliit pa namansi Kris noon, e. Saka baka masyadong akong ma-upstage!"


For tickets to Cory the Musical, please call Shiela at 851-3120.

ADVERTISEMENT - CONTINUE READING BELOW

Performances: November 29 (Saturday) 8 pm
November 30 (Sunday) 3 pm and 8 pm
December 1 (Monday) 8 pm


Venue: Meralco Theater, Ortigas Avenue, Pasig City