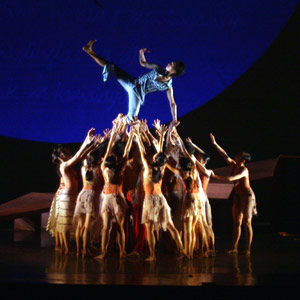 ---

What is most interesting in Ballet Philippines' staging of LaRevolucion Filipina is choreographer Agnes Locsin's entrancing dancevocabulary. Audiences used to classicalballet will not find the usual poses and movements in this showcase of earthyand visceral emotion and strength.
Instead of the usual arms and legs extended to create a"longer line," Locsin has her dancers in bent, crooked and contortedchoreography and it looks different, yet wonderful. She imbues her dancers with a unique grace and texture. Sometheater fans may remember shades of this kind of choreography from Trumpet's TheLion, The Witch and the Wardrobe and SK Entertainment's Rama at Sita,two musicals that feature Locsin's choreography.
This different approach is appropriate in that La Revtraces the struggle of Filipinos such as Apolinario Mabini, Emilio Aguinaldo,and Andres Bonifacio against foreign invasion set to the haunting music of RyanCayabyab. In a way, Locsin's reworkingof Western dance techniques into neo-ethnic movement already tells much of thestory, because even in the form that she uses, there is already an unspokenrevolt against established "foreign" dance norms.
In the performance we caught, Mabini was performed by BiagGaongen. He gives a strong performance,a study in quiet, interior power portrayed through intense and elegant dancing.
One striking image that Locsin creates is that of a maledancer (The Oppressor) holding up a female dancer (representing enslavedFilipinos) in a fetal pose, legs askew and arms outstretched insupplication. Using Dennis Marasigan'slibretto, this is a sad but powerful image Locsin repeats towards the end ofthe two-hour narrative, when Mabini "witnesses the treachery of his fellowmenand the cruelty they inflict on their fellow Filipinos." In a way, perhaps it is her warning toaudience members that they should keep in mind not to let that image happenagain.
Set designer Mio Infante uses visual metaphors to reflectviolation and intrusion. He places askewed, off-kilter ramp upstage, like a jagged, meddlesome finger pointingmenacingly into the otherwise pristine stage. A large half circle, meanwhile, serves as the backdrop with a neon-orangetriangle piercing into it.
ADVERTISEMENT - CONTINUE READING BELOW
Katsch Catoy's lively lighting design is able to createcompletely different looks for the stage, sometimes bathing it full of lightand sometimes casting ominous shadows to full effect. One very small quibble though, in one crucial sequence featuringthe Philippine flag, his yellow lighting was so strong (or perhaps the fabricwas so faded?) that the red and blue stripes on the flag became a strange hueof orange and green.
Nonetheless, La Rev is a poignant piece that helpsretell our history as a people and as a nation. It bears retelling, again and again, lest we forget.
Ballet Philippines will stage New Beginnings on October17 to 19 featuring choreography by Alvin Ailey, Alan Hineline, and Max LunaIII. For details, call 551-1003 or 551-0221.