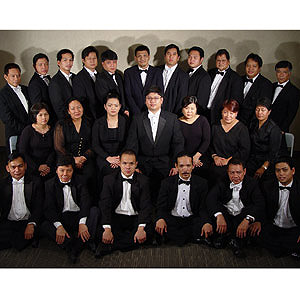 ---

In the ongoing West Side Story (WSS) at the MeralcoTheater, it's a known fact that staging a musical as big as this would need aworld-class musical director to carry out the classic music of LeonardBernstein. Berklee College of Musicaward-winning alumni Gerard Salonga fits rightfully in the production, whichhas been earning rave reviews in the past weeks.
"Bernstein is more famous as a conductor than acomposer. I've known his works even before I went to Berklee. Among musicaltheater lovers, he's been known for West Side Story, Candide, On The Town,"says Gerard, whose childhood was spent listening to the music of the greatconductor-composer.
Looking back, he said it's as if he was being prepared forWSS. "I would not have been able to do this 10 years ago. Di komakakayanan yung stress."
He shares two of his former teachers in conducting areformer students of Bernstein. "They are David Callaghan and GeorgeMonseur, both are conducting students of Bernstein in Tanglewood Music Center.It's an annual summer music workshop that is held by the Boston Symphony Orchestrain Berkshire, Massachusetts. Bernstein was a student there before he becameteacher."
Gerard recounts, "Batang-bata pa ako, alam ko na yungmga kantang galing sa West Side Story like 'Tonight,' 'Something'sComing,' and 'Somewhere' (popularized by Barbra Streisand). Johnny Mathisrecorded 'I Have A Love.' Shirley Bassey did a version of 'Something's Coming.'Sumikat yung mga kanta even without seeing the play. Imposibleng 'di monarinig."
Gerard says it's been his long-time dream to do a work byBernstein. He never imagined it would be as big as WSS. The first Bernsteinpiece he conducted was "Symphonic Dances" from WSS, sometime in 2003.It's a concert piece arranged by Bernstein for a symphony orchestra.
Five years later, when the opportunity came to do WSS, hegrabbed it at once. Gerard said he learned that STAGES was about to do WSS fromone of the production people he worked with in sister Lea's solo concert, MyLife Onstage, in which he served as musical director.
ADVERTISEMENT - CONTINUE READING BELOW
He adds Bernstein's influence on him is undeniable.
"...By virtue of his exuberance, even in the classicalrepertoire, he's famous for his podium acrobatics. Purists aren't entirelyhappy with it and his tendency to take liberties with classical music. Many sayhis interpretation of Beethoven was too slow while his Mozart was too fast. Butfor Bernstein, that was the fusion of the composer's intent and the performers'understanding of the composer."
He adds it's the excitement that Bernstein brought to hismusic making that thrilled him a lot. "He was a lover of music of everykind. You can see that in WSS as well as in his serious compositions."
Conducting the 30-piece FILharmoniKA, Gerard enjoys thenearly three-hour musical. He said it doesn't tire him a bit. There are breaksbut what matters is he enjoys doing the whole show.
Like the orchestra, he describes the cast as fabulous."I'm very surprised of the number of talented young people we now have inmusical theater. It's Menchu's [Lauchengco- Yulo] first time to direct. I'veknown her for a long time so it's good for me to be part of this very importantproject for her."
As for the musical itself, Gerard is unstoppable expoundingon the experience.
"All songs in WSS are great. The rumble, mambo, eventhe prologue is cool. Walang itatapon. 'Somewhere' is so beautiful.Minimally-written. Hindi sobra. Walang labis walang kulang."
And with that excitement, he wishes to share to all membersof the audience every time he raises that baton as Tony and Maria defies allodds in this immortal love story that everyone should experience.
ADVERTISEMENT - CONTINUE READING BELOW
West Side Story
'sremaining play dates at Meralco Theater are on October 3, 4, 5, 10, 11, and 12,2008. There's an additional show onOctober 12 at 8 p.m. due to insistent public demand. For tickets, call Ticketworldat 891-9999 or STAGES at 818-1111 loc. 225. Ticketworld is online at www.ticketworld.com.ph. Ticket prices rangefrom P500 to 1200.
PEP PROMO.
Get a chance to win tickets to the October 5 show by joining
PEP's online promo
. Promo ends on October 1, 2008. The lucky winner will be notified when he/she can pick up the 2 tickets to
West Side Story
at the Summitmedia office at the 7th floor, Cybergate 3 Robinsons Pioneer complex, Pioneer St., Mandaluyong City. (Click
HERE
to join the promo).