Nicole Chien, the daughter of Lea Salonga, is already following in the footsteps of her famous mother.
The 11-year-old girl is one of the cast members of the upcoming Matilda the Musical. This theatrical production will open on November 10, 2017 at the Meralco Theater.
In February 2017, Nicole also joined Lea Salonga onstage during her latest solo concert, Songs from the Stage, held at the Philippine International Convention Center.
The Voice Kids Season 2 finalist Telesa "Esang" de Torres is one of the three young girls alternating as Matilda.
The Philippine run of Matilda will also feature Felicity Kyle Napuli and Uma Martin in the titular role.
Lea Salonga was the coach of Esang when she joined The Voice Kids PH.
In 2016, Esang was also chosen to be an alternate for the role of young Cosette in the Manila and Singapore staging of Les Miserables.

Jamie Wilson is cast as Miss Trunchbull, the cruel headmistress who bullied and terrorized the children.

The musical is based on the novel Matilda by Roald Dahl released in 1988. It tells the story of Matilda, a child prodigy who possesses the powers of telekinesis (the ability to move things with her mind). She uses her powers to protect her schoolmates from their evil headmistress, Miss Trunchbull.
In the 1996 movie version, Mara Wilson was cast as the young Matilda while Danny DeVito played her father. Pam Ferris brought life to the hated Miss Trunchbull.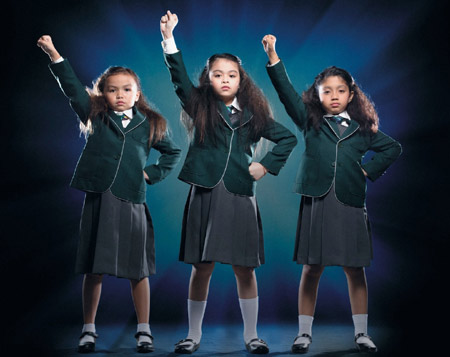 (L-R) Uma Martin, Esang de Torres, and Felicity Kyle Napuli alternate as Matilda