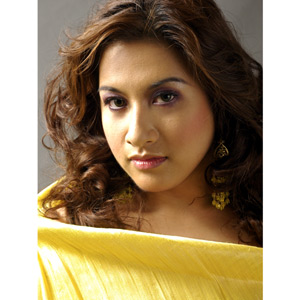 ---

Ana Feleo is an Aliw Awardee for Best Actress in a Musicalfor 2007. She received her music education at the College of Music, Universityof the Philippines under the tutelage of Professor Emeritus FidesCuyugan-Asensio.
She has performed in various oratorios, concerts, operas andmusicals such as Magnificat; Sino ka ba, Jose Rizal; Alikabok; Something ToCrow About; The Lion, The Witch and the Wardrobe; Oraciones; Pergolesi's StabatMater; Handel's Messiah; Saint Saen's Christmas Oratorio; Gilas!;Operanow I, and Mozart's Magic Flute among other.


Her most significant role, however, was in the world premiere of the Filipinoopera, Spoliarium: Juan Luna, where she played Paz Pardo de Tavera-Luna,the murdered wife of Luna. This production was written by Prof. Fides Asensioand composed by Maestro Ryan Cayabyab.

Starting today, October 3, Ana gets her biggest break in heroperatic career where she is tasked to perform her very first full-length operain Giacomo Puccini's opera, La Boheme to be staged at Cultural of thePhilippines' Main Theater.

In La Boheme, the lead roles are tenors Juan AlbertoGaerlan, and Seattle Opera-based Gary del Rosario as Rodolfo. Sopranos JenniferUy and Maribel Miguel make their debut as Mimì while sopranos Ana Feleo andElaine Lee play Musetta. Baritones Lawrence Jatayna and Jesus Baang playsMarcello while Joseleo Logdat and John Ocampos plays Colline and Schaunard,respectively.

As Musetta, Ana will sing the famous aria "Quando men 'vo."


She points out, "Musetta, for me is a damaged soul.Shattered by the difficulties of life, of poverty and failed relationships inthe past. She gathers strength from allof these experiences, and becomes this strong, fearless woman. Passion rulesher life. In her heart, she knows that Marcello is her soul mate. Despite theirpetty fights and jealousy, they know that they cannot live without eachother. Passion runs theirrelationship."
ADVERTISEMENT - CONTINUE READING BELOW
Asked how she prepared for the role, "I trained with W.Stephen Smith in Juilliard School of Music to prepare me vocally for therole. And then I also had severalacting classes with my mother (Film director and acting coach Laurice Guillen),along with the other cast members for the emotional and character obligation ofeach role. We also had weekly training with Maestra Helen Quach to master thescore of Puccini since June of this year."
"Probably the most challenging part of my preparation waswhen I left to study in New York. I hadto shoulder everything financially. Myparents, of course, helped, but that was it. I had to get rid of my fears of going to Juilliard alone. I had to undoa whole lot of vocal habits and humble myself to receive whatever correctionsand work my teacher had to give me. I have gone through my own share ofdifficulties in all aspects of my life. But like Musetta, these trials neverstopped me to allow myself to feel, to love, and to aspire. I believe that mypassion for love, for my art, and for my craft is what fuels me to go on withlife, and to ENJOY life."
The storyline of La Boheme is simple enough: Mimi andRodolfo find love, lose love and then find love again at the end of the play,right before Mimi dies. A second storyline involves the relationship betweenMarcello, a bohemian writer, and Musetta, a vivacious redhead who makes aliving by feeding off of her sugar daddy. Rodolfo and Marcello are supported bytheir roommates, a professor named Colline and a musician named Schaunard.
ADVERTISEMENT - CONTINUE READING BELOW
What makes this production remarkable is that each performerhas the whole package: youth, beauty, a powerful voice and talent as an actor.Director Floy Quintos has brought out the best in all of his performers withhis creatively modern direction. Set design is by Jo Tecson, the high-techvideo design is by Furball and lighting design is done by Monino Duque.


La Boheme Manila is set to open tonight, October 3,with a cocktail gala at 8 pm and October 4 at 8 pm and a 3 pm matinee onOctober 5 at the Cultural Center of the Philippines' Main Theater. For tickets,call Philippine Opera Company at 892-8786 or Ticket World at 891-9999.