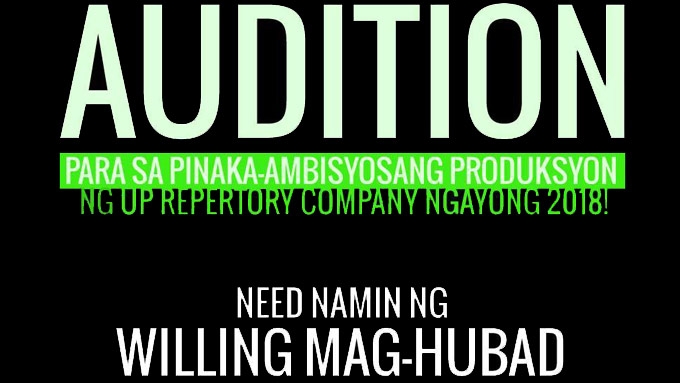 ---

The University of the Philippines Repertory Company is conducting auditions for a new production. The theater organization dubbed it as its "pinaka-ambisyosang produksyon ng 2018."
However, they are not just looking for any kind of actor.
Rather, they listed several qualifications that are sure to catch the attention of the public.
The production is searching for at least 250 people who can do these interesting, hilarious, and daring moves.
UP Rep is looking for those who are "WILLING MAG-HUBAD!" Although it's not sure if this will involve the actual removal of clothes onstage or it could refer to the removal of articles of clothing.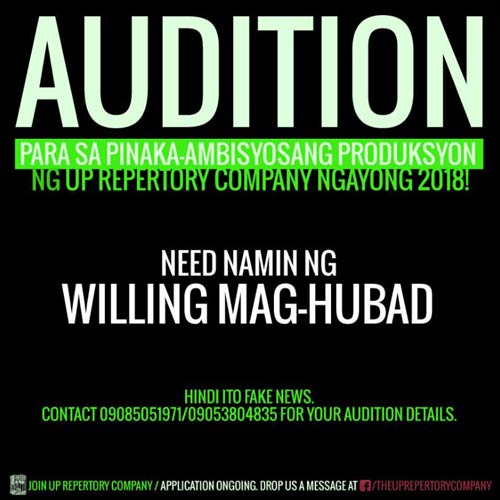 There's also a need for people who can striptease.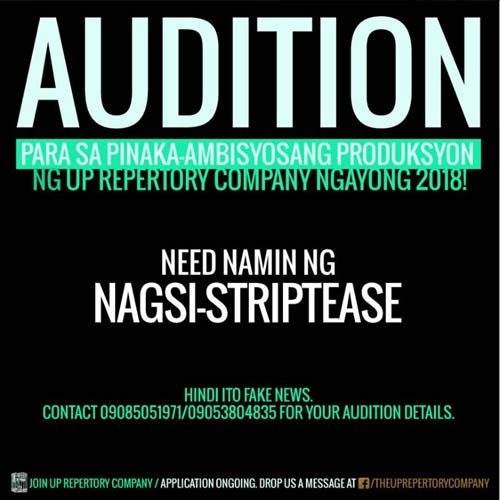 Other openings include those with these talents: "PAK MAGCATWALK," "LAGING NAGKA-COPY PASTE," "MARUNONG MAG-SPREAD NG PEANUT BUTTER," or "LAGING NAGBU-BOOMERANG."


ADVERTISEMENT - CONTINUE READING BELOW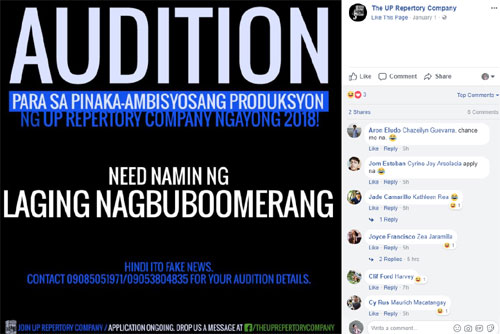 The theater org is looking for social media savvy people like: "ADIK SA IG STORIES," "WELL-TWITTERVERSED," "KERI MAG-FB LAGI," or "TINDERELLAS."
"Tinderella" is the term for someone fond of using the dating app Tinder.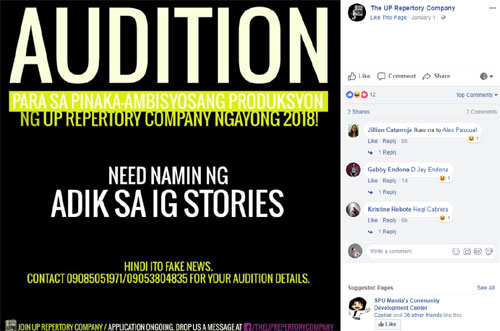 There are hints that the production would have a mature theme since they also looking for those who are "MARUNONG MAG-MAKE OUT" or "NAGSASALSAL."


ADVERTISEMENT - CONTINUE READING BELOW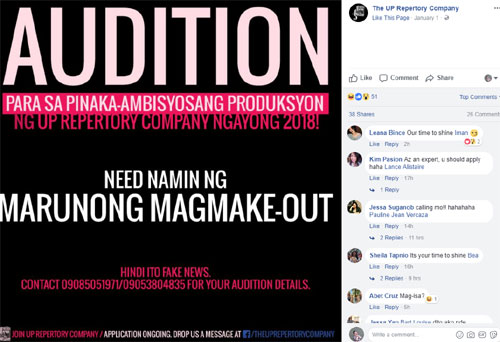 At the end of each infographic, the announcement indicated: "Hindi ito fake news."

There were also mobile numbers provided in case one wishes to audition.
In its Facebook post, the UP Repertory wrote, "tag mo fren mo..
p.s. this is not a joke!
p.p.s. this is your chance!"
To check out the requirements, UP Repertory uploaded details on its Facebook page.