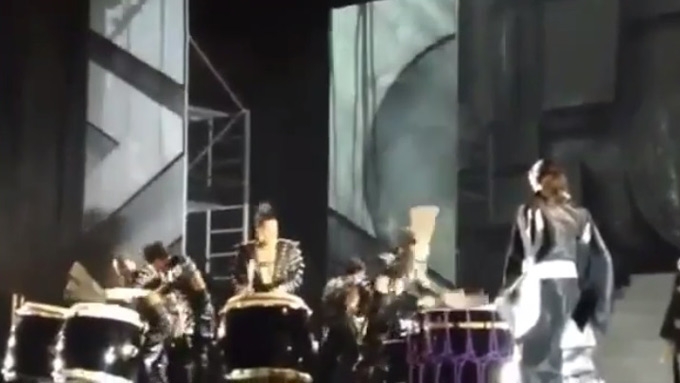 IMAGE Jennifer Dugena
---

The Drum Tao performers have the endurance of an athlete, the flexibility of a gymnast, the gracefulness of a martial arts fighter, the rugged sexiness of a rock star, and the anime-like charm of a "Bishonen" (a Japanese term used for a handsome male animated character).

Given these traits, it is tempting to dub them as a boy-band version of a hard-edged drum and dance ensemble.

Their April 19 to 22 shows at the Kia Theatre, dubbed as Samurai Drum Rock, captivated audiences in Manila due to the rhythmic music and precise choreography.

The performers' movements combined martial arts with acrobatic stunts. Wadaiko drums of various sizes, a Japanese flute, a horizontal harp (referred to as "koto"), and guttural chants from the performers, were used in this almost word-less two-hour production.

Add in the artists' winks and smiles to the audience—all while clad in black and silver garb that made their ripped upper torsos visible—and The Drum Tao effortlessly establishes itself as a uniquely entertaining show that is difficult to forget.

The Drum Tao's first performance in the Philippines was in 2012. So far, the group has been seen by 7 million people in more than 24 countries. It received The 6th Japan Tourism Agency Commissioner's Awards from the Japan Tourism Agency, and was a box office hit in the 2004 Edinburgh Festival Fringe—considered to be the largest arts festival in the world.

The Drum Tao currently trains and performs most days of the year with only ten days of rest. Their picture-perfect Samurai Drum Rock show is evidence of their rigid practice. Shimmering long sticks twirling in the dark, a large multi-colored cube dancing on a performer's shoulders, and neon-lighted shadows floating on a pitch-black stage prove that the show is an impressive spectacle of sound, light, and motion.

Using merely hand gestures, the performers managed to encourage the audience to interact. One section of the Kia Theatre clapped in a specific tempo, while the other half clapped to a different beat. Performers also went down from the stage to shake hands with lucky concertgoers.

Minutes before the show ended, performer Yoshinori Suito shouted: "Mabuhay!" to the delight of Filipino viewers.

Ikuo Fujitaka formed the Drum Tao in 1993. Trainees are required to not drink, not smoke, have no girlfriends, and no telephone. A normal training day begins with hour-long sit-ups, stretches, and a five to ten kilometer run prior to breakfast. The program was so rigorous that 400 trainees escaped during the initial ten years of Tao's existence.

After their Philippine performance, the group will be seen in China this July. They are currently also on tour in the U.S. and Canada until May. The Drum Tao will similarly give a spring and autumn performance in Tokyo, Japan.

The group has performed the art of Japanese drums in countries such as Denmark, Switzerland, Singapore, Belgium, and the United Kingdom.



ADVERTISEMENT - CONTINUE READING BELOW