Broadway actress Lea Salonga has taken her final bow in the musical Once On This Island.
The Facebook page of Once On This Island posted a video of Lea's last performance earlier today, June 25.
It was seen in the video that Lea became emotional during her final performance as Erzulie, the goddess of love.
Lea hugged all her cast mates one by one as theatergoers shouted "Lea! Lea! Lea!"
The Facebook page also wished Lea well and wrote in their caption, "Happy trails, Lea Salonga! We will miss you!"
After her last show, Lea gave a message to all her fans, especially to those who supported her throughout her stint in the musical that was staged in New York.
She said, "To all of our fans that have been incredibly supportive since the very beginning of this journey, thank you all so very much from the bottom of my heart.
"The audiences that have come had been nothing but generous and kind and you know what, they've just been giving us so much life.
"Please continue to be supportive of this wonderful wonderful Tony award-winning show.
"It is one that will have my heart forever so thank you, maraming maraming salamat to everybody that has just been supportive of me in this show and of the show in general. Hopefully, our paths will cross again wherever my journeys will take me."
Through her Twitter account, Lea said her final goodbyes as Erzulie.
She wrote, "And Erzulie says, PEACE OUT!!! I leave the show with a grateful heart, and so many beautiful memories. Onward and upward!"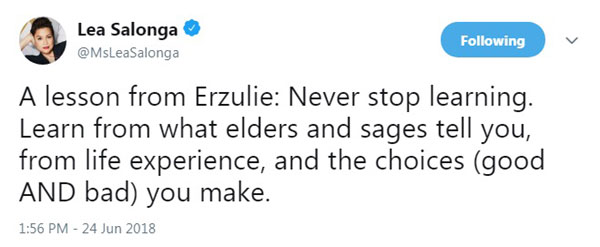 Lea also posted photos together with her Once On This Island cast mates on her Instagram account, saying that she will miss all of them.


The Filipino actress received flowers from a cast member who did not disclose his/her identity in the accompanying card.
Lea wrote, "Dear @onceislandbway family, I got this card and these flowers yesterday and would like to properly thank the giver, but there was no closing to the message. Whoever you are, thank you!"
Prior to her last show, Lea performed with fellow Once On This Island cast members at the 2018 Tony Awards, where the musical was cited for being the Best Revival of a Musical.
Days before the Tony Awards performance, Lea also won the Best Featured Actress in a Musical award in the 2018 Theater Fans' Choice Awards of BroadwayWorld for Once On This Island.