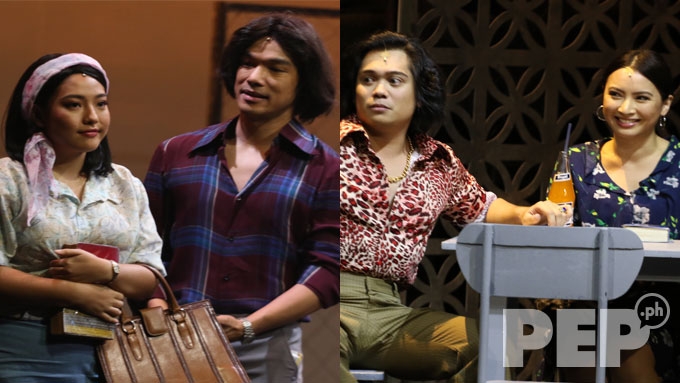 IMAGE Noel Orsal
---
As a stage musical that's loosely based on the foundation of the trio APO Hiking Society, aka APO, and utilizes APO's original compositions, Eto Na! Musikal nAPO! doesn't disappoint.

Eto Na! Musikal nAPO! runs Friday to Sunday until August 26 at the Maybank Performing Arts Center of the Bonifacio Global City in Taguig City. For tickets, visit www.ticketworld.com.ph
It opens with an overture consisting of some of APO's hit songs and creates excitement as theatergoers try to imagine how those songs would be performed in the production.
The student anthem "Blue Jeans" plays and the cast comes onstage in '70s fashion—bell bottoms, tight shirts, platform shoes, shag hair styles, the works—singing and dancing to their hearts' delight.
Time here doesn't only refer to the setting of the story but also to that point in one's life rife with youthful exuberance and carefree ways.
ADVERTISEMENT - CONTINUE READING BELOW
While college friends Rick (Mark Bautista), Ray (Jon Philippe Go), Butch (Jobim Javier), Sonny (Alfritz Blanche), Jaime (Jef Flores), Donnie (Jon Abella), and Bobby (Vyen Villanueva) pursue their studies, they follow their musical dreams.
Hanging out means they sing along to the strum of the guitar as they try to mix words and melody until they come up with own tunes, just like the APO songs "Lumang Tugtugin" and "Salawikain."
They then set out to joining a songwriting contest, but are soon beset with individual conflicts.
Rick, the barkada's chief lyricist, hits a rough patch with his girlfriend Anna (Rita Daniela), who feels neglected.
Pre-Med student Ray's parents Mon and Carmen want him to quit his musical pursuits so he can focus on his studies.
Playboy Butch falls for the new girl on campus, Michelle (Sab Jose), who happens to have a boyfriend in the person of a burly varsity star player.
ADVERTISEMENT - CONTINUE READING BELOW
The group's resident melody maker, Sonny, is in danger of being left behind by his U.S.-bound girlfriend Jane (Marika Sasaki).
In the end, Jaime, Donnie, and Bobby carry on as a trio.
The musical's creator and director Robbie Guevara, along with musical arrangers Daniel Bartolome and Orly dela Cruz, have chosen and recreated the perfect APO songs to encapsulate those individual conflicts.
There's "Nakapagtataka" for Rick and Anna (though the song from which her named was culled from could've been included, too); "Batang-Bata Ka Pa" for Ray and Carmen; "Mahirap Magmahal ng Syota ng Iba" for Butch and Michelle; and "Show Me a Smile" and "Paano" for Sonny and Jane.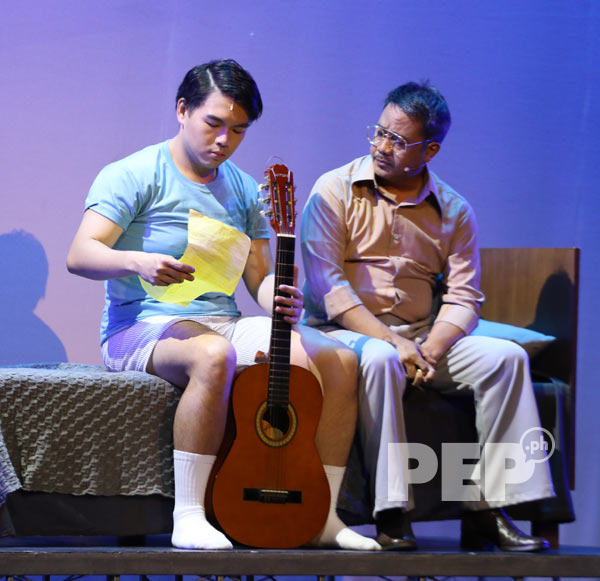 The performance of the song "Batang-Bata Ka Pa" is one of the emotional highlights of Eto Na! Musikal nAPO! 


ADVERTISEMENT - CONTINUE READING BELOW
Then there are the emotional APO songs that underscored the poignant scenes: "Tuyo Na'ng Damdamin" for Anna and "Pag-ibig" for Mon and Carmen.
On the other hand, Jaime, Bobby, and Donnie seem like peripheral characters until the last few minutes of the musical, when they are the only ones left to join the contest.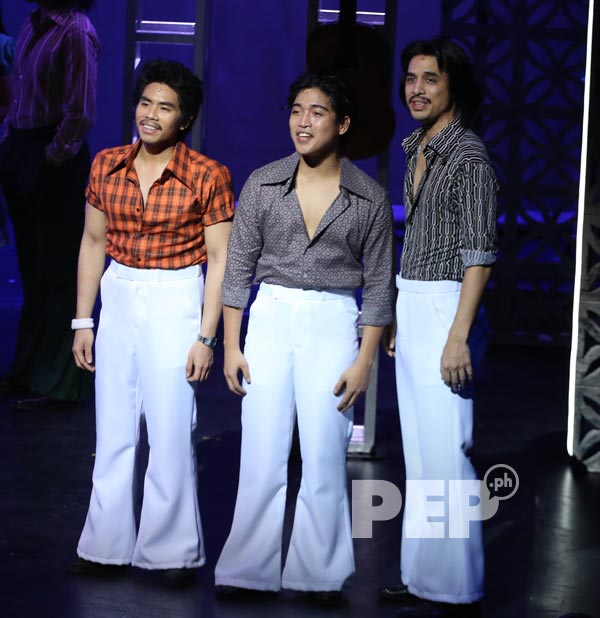 IMAGE Noel Orsal



ADVERTISEMENT - CONTINUE READING BELOW
Maybe that's what happened to real-life APO members Jim Paredes, Boboy Garrovillo, and Danny Javier.
Still, it's good to know more about Jaime beyond his funny way of speaking in Filipino, Bobby's being vertically challenged, and Donnie, who tends to blend into the background.
What makes the musical jointly produced by Globe LIVE and 9Works Theatrical entertaining, aside from the hummable songs, is the witty use of pop culture and historical references.
Cases in point: the origins of apir, the Pinoy word for high five; Boracay as an exotic place back in the '70s; unheard-of traffic jam on EDSA decades ago; the use of the Love Bus as public transportation; and how Ali Mall got its name.
What adds depth is the issue on Martial Law, especially now that many people seem to have forgotten that dark period.
Standout performances include Mark Bautista's solo rendition of "Di Na Natuto" and his duet with Rita Daniela of "Nakapagtataka."
ADVERTISEMENT - CONTINUE READING BELOW
Mark, who also played the late strongman Ferdinand Marcos in the original U.S. staging of the rock musical Here Lies Love, shows in this production that he's a team player as much as a star performer.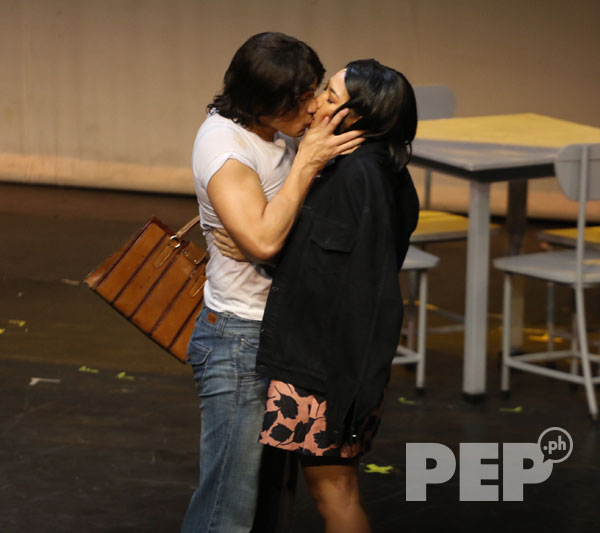 Mark Bautista has a kissing scene with Rita Daniela in this musical


Jobim Javier, a DJ at Jam 88.3, is the breakout star in this production, and it has nothing to do with his being a son of APO member Danny Javier.
ADVERTISEMENT - CONTINUE READING BELOW
Jobim easily elicits chuckles and giggles as the presko chickboy who's tamed by the love of his life.

He and his love interest in the musical, Sab Jose, have undeniable chemistry that makes their kilig scenes work wonders.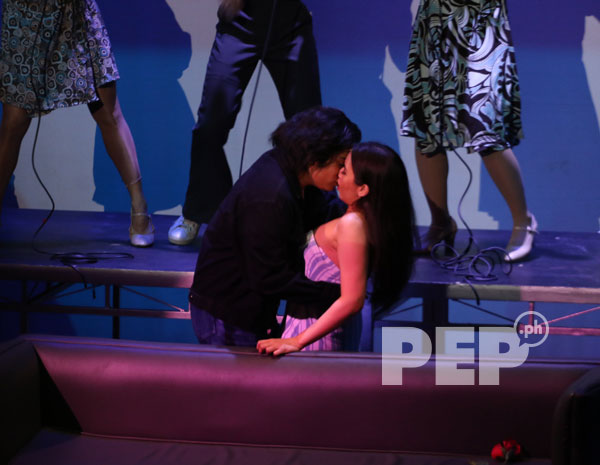 Jobim Javier, the son of Danny Javier, has naughty scenes with Sab Jose in this musical which makes of APO Hiking Society songs



ADVERTISEMENT - CONTINUE READING BELOW
Alfritz Blanche and Marika Sasaki are likewise lovable as a mismatched couple. He earns plus points for his naturally comedic ways and she, for her dulcet voice.
 
Ed's Note: The "PEP Review" section carries the views of individual reviewers, and does not necessarily reflect the views of the PEP editorial team.