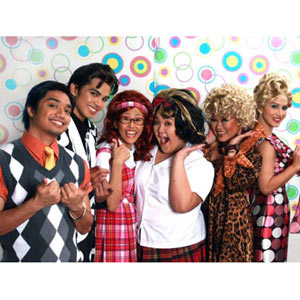 ---

Atlantis Productions brings to the Philippines the stageadaptation of the Tony award-winning musical Hairspray. It will runfrom November 14 to December 7 at the Star Theatre, CCP complex. Hairspray wasbrought to life on the big screen last year by John Travolta, MichellePfeiffer, Queen Latifah, and Zac Efron.
This time, audiences will be treated to a two-hour play featuring "wall-to-wall dancing" with a star-studded cast led by Michael de Mesa, Dulce, Menchu Lauchengco-Yulo,and Nyoy Volante. Hairspray is about Tracy Turnblad, a young girl whowins a spot on the local TV dance program The Corny Collins Show. The"pleasantly plump" girl becomes a teen celebrity overnight in her hometownBaltimore, Maryland. Soon, Tracy finds herself pitted against the show'sreigning princess for the title Miss Teenage Hairspray 1962.
Can Tracy take home the crown and win the affections ofheartthrob Link Larkin, who happens to be the boyfriend of her closest rival?


Find out on the local version of Hairspray, which will run for fourweekends.
ADVERTISEMENT - CONTINUE READING BELOW
Michael de Mesa will play a woman on stage for the firsttime as Edna Turnblad, the mother of Tracy. He will be wearing dresses, heels,and a fat suit for this role, portrayed by John Travolta in the recent moviemusical.


During the rehearsals of the cast members for the benefit ofthe press, PEP (Philippine Entertainment Portal) asked the veteran actor if hehad any hesitations about playing the role of a woman in this musical.
"None. In fact, after I saw the movie, I enjoyed it somuch...after watching John Travolta. I remember, Bobby and I were discussingabout it two years ago, let's do Hairspray. When he was able toget the rights, he texted me while we were doing Dogeaters. Then he said,'Mike, we're doing 'Hairspray' and I want you to play Edna.' So I said yesright away."
Did he find it difficult to portray a feminine character in this play?
ADVERTISEMENT - CONTINUE READING BELOW
"Edna's not a cross-dresser," he points out. "She's a woman.It's a bit hard because there's a thin line [between] men playing gay roles andreal female roles. My foremost concern was, I did not want her to come out gay,because she's a real woman, so you have that suspension of disbelief and theacceptance that the character is really played by a man. I'm really workinghard on that thin line of not making Edna look bakla, but babae andmotherly."
Multi-awarded singer Dulce plays Motor Mouth Maybelle, arole that Queen Latifah made famous in last year's remake. This productionmarks her 30th year in the entertainment scene. Audiences should look forwardto her power ballad "I Know Where I've Been," which she will perform during thesecond act of the play.
THE NEWBIES. Making their professional stage debut in Hairspray arelead characters Madel Ching and Tim Espinosa, who is part of ABS-CBN's StarMagic Batch 15.
ADVERTISEMENT - CONTINUE READING BELOW
"I feel like the modern-day Filipina version of Tracy," saysMadel. "It's a little scary to take on a role this big, but I'm really lookingforward to the challenge of playing a character with this much spirit andenergy!"
Michael thinks the role of Tracy is perfect for Madelbecause of her infectious energy. "She's very jolly, very cheerful, very sweet,and very talented. She's so light in her feet. The way she dances, the way shemoves, it's unbelievable."
Twenty-year-old Madel is currently a junior at Ateneo deManila majoring in AB Political Science. Although she has performed in the pastfor Ateneo Blue Repertory's High School Musical, she admits that she wasintimated by the fact that she would be working with some of the country's topthespians.
"Nung first day ko, hindi ako makalapit kina Tito Michael,Tita Menchu, pero naging okay na rin kasi they're super helpful. Tita Menchuwould help me with my singing and my acting at mino-motivate ako ni TitoMichael," she narrates.
ADVERTISEMENT - CONTINUE READING BELOW
What attracted her to the role of Tracy and Hairspray ingeneral? Madel says: "Sobrang bilib ako sa material, aside from thefact that I can totally relate to Tracy at sa nafi-feel niya. It has a big castand yung numbers, sobrang energetic and it's very colorful. It's a feel-goodmusical and you're going to walk out [of the theater] to the tune of 'You Can't Stop the Beat.'Ang ganda rin ng message niya, hindi lang discrimination against chubby girls, it's about racial discrimination rin. It's also set during the '60s, a time forrevolution."
Menchu Lauchengco-Yulo returns to stage acting after herstint as a director for the local version of West Side Story. She is castas the villainous Velma Von Tussle. After five years, singer-songwriter NyoyVolante returns to his theater roots by playing the role of Seaweed J. Stubbs.During the rehearsals, Nyoy impressed the crowd with his fluid dance moves andhis clear singing voice. He was last seen onstage alternating with Jett Panganfor the role of James Thunder Early in Atlantis' Dreamgirls.
ADVERTISEMENT - CONTINUE READING BELOW
Hairspray is directed byBobby Garcia, with choreography by Cecille Martinez, sets and costumes by GinoGonzales, and lighting design by Shoko Matsumoto. Musical director ArchieCastillo conducts FILharmoniKA. It runs from November 14 to December 7 at theStar Theatre, CCP Complex. Tickets can be purchased from Atlantis Productions (Tel.No. 892-7078, 840-1187) or Ticketworld at 891-9999.
ADVERTISEMENT - CONTINUE READING BELOW