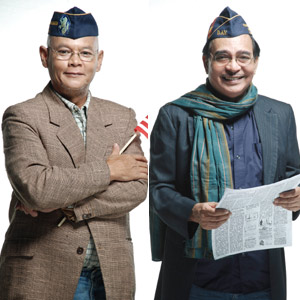 ---

Noted journalist Benjamin Pimentel's first novel on theplight of Filipino World War II veterans in America titled Mga Gerilya saPowell Street will be brought to life on stage as Tanghalang Pilipino'ssecond offering for its 22nd theater season.
While the Filipino veterans here and in the United Statesawait for the final solution to their equity rights afforded to Americansoldiers during World War II, Mga Gerilya sa Powell Street is a timelystory that is both funny and heartrending.
"The production is so timely," says Fernando Josef,Tanghalang Pilipino's new artistic director. "These are our heroes," hedeclares. "We want the Filipino public, especially the youth, to know the dilemmaof our veteran soldiers and of course, our elderly."
According to Mr. Pimentel, a former writer forthe San Francicso Chronicle, he had already written articles about thestruggles of WWII veterans in America and the ongoing campaign of the Filipino Americancommunity to help them attain equal benefits.


In his message published in the program of Mga Gerilya, he writes:"Journalism can also go so far in telling their stories, I realized.So I turned to fiction to retell and reimagine what these men had gone through.I naturally tried to tell it in English having spent most of my writing careeras a journalist working for an American newspaper. But it didn't work... so Ishifted to Pilipino. Only then did the story and the characters come alive."
Adapted for stage by multi-awarded playwright, Rody Vera, MgaGerilya tells the diverse stories of a group of Filipino veterans of thePacific War who are habitués of San Francisco's Powell Street and are foreverwaiting for the full equity benefits they have lobbied for years in the U.S.Congress. Although the novel's characters are depicted in a comic, sometimeshilarious ways, the underlying seriousness of the play is brought into fore ofa stranger in a strange land, while fighting another war of discontent,disillusions and disappointments.
ADVERTISEMENT - CONTINUE READING BELOW
A sure treat for students and followers of Philippinehistory, Mga Gerilya will be performed by the country's topnotchtheater/film actors such as Tommy Abuel, Bembol Roco, Dido De La Paz, and otheractors. The play will be directed by Chris Millado (the director of Zsa ZsaZaturnnah and Insiang). Tanghalang Pilipino will stage this playfrom November 7 until November 30 at the CCP Tanghalang Huseng Batute at8:00 p.m. (Fridays-Saturdays) and 3:00 p.m. (Saturdays-Sundays).


For ticket inquiries, please call Tanghalang Pilipino at832-3661 or 832-1125 loc. 1620 or 1621 and look for Yvette or Paulo.