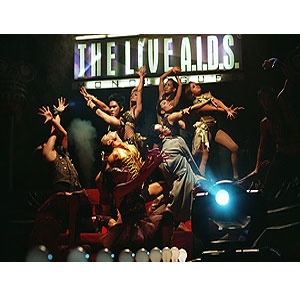 ---

Mention Live AIDS to students of the University of the Philippines and you will surely be greeted with peals of laughter. They will most probably regale you with hilarious anecdotes punctuated by an eager invitation to watch the next show with them. A.I.D.S. stands for "Ang Istoryang Dinebelop ng Samaskom" and does not refer to the disease feared by many. If anything, the laughter generated by the show is highly infectious, prompting members of the organization SAMASKOM to stage it year after year.

Live AIDS, UP SAMASKOM's brainchild, gained prominence with its trademark comedy and the stars discovered in it. Since its conception in 1985, the show has become a venue for impressive performances and big production numbers. Two of the brightest comedy mavens in the country, Giselle Sanchez and Tuesday Vargas, first proved their flair for intelligent humor and wit on the Live AIDS stage.

From their humble beginnings in Live AIDS, Giselle Sanchez and Tuesday Vargas have gone on to conquer the local comedic arena, bringing their own brand of "smart comedy" and witty repartee to the laughter-loving Filipino audience. Polished to perfection by UP SAMASKOM, these queens of laughter have truly brought comedy to a whole new level. Giselle Sanchez, who was discovered by Tessie Tomas in the very same show, is quick to say that Live AIDS has opened her eyes to the possibilities that lay after a well-regarded education in UP and she hasn't turned back since.

Tuesday Vargas was first launched into the comedic ranks through her appearances on Live AIDS. Doing most everything from hosting, dancing, singing and acting as a sketch and monologue artist, Izel as she is fondly called by the friends and orgmates, is stellar in every way. These beginnings proved to be of much value to her as she figures largely in local and international shows, comedy club circuits and the local music scene in her alternative rock band Top Junk.

For its 25th year, Live AIDS will again continue on its tradition of weaving magic and delight for its audiences through its trademark brand of intellectual comedy. Dubbed as Anak Ka ng Peyups!!! Live AIDS Silver: The UP Centennial Edition, this show promises passion-fueled production numbers, laughter-inducing sketches, as well as amazing song numbers.

Stars such as Giselle and Tuesday, theater actor RS Francisco, Miss Ador and equally talented new members of the organization, continue to demonstrate their fervent enthusiasm and love for UP SAMASKOM as they return to their roots to cap UP SAMASOM's glorious tradition of laughter for a quarter of the university's 100 years. Live AIDS is the sum of all passion that is meant to be shared to its loyal audiences.

Shows are scheduled on November 28, 29, and 30 (7 p.m.) at the University of the Philippines Theater.

For tickets, call TicketNet at 911-5555.

ADVERTISEMENT - CONTINUE READING BELOW