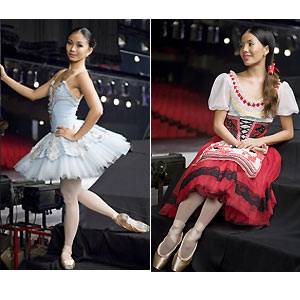 ---

Ballet Philippines (BP) is scheduled to present Coppélia, a classical ballet piece from the 19th century. The dance company last performedit full-length in 1986, thenunder former artistic director Alice Reyes. Sisters Carissa and Candice Adea will topbill Alan Hineline's Coppelia,which will run from December 11-14 at the Cultural Center of thePhilippines (Tanghalang Nicanor Abelardo).

Premiering in Paris, France in 1870, Coppélia is athree-act sentimental comic ballet originally choreographed by ArthurSaint-Léon, with a ballet libretto by Saint-Léon and Charles Nuitter, and musicby Léo Delibes. Originally subtitled"the girl with enamelled eyes," Coppélia was based on DerSandmann (The Sandman). This is E.T.A. Hoffman's macabre storypublished in 1815 about the mysterious toymaker Doctor Coppélius, who wants tobring to life his sinister doll creations, particularly his most prizedpossession, the life-size dancing doll, Coppélia.
The ballet, more light-hearted than the gothic inspiration,follows the story of Swanilda, daughter of the burgomaster, who is about tomarry Franz the following day, but is infatuated with Coppélia, which he didn'tknow was just a doll. When Swanildafinds Doctor Coppélius' key, she breaks into his mysterious house, where sheonly discovers the spooky automatons the doctor created, but also finds outthat Coppélia is just a mechanical doll. Swanilda's break-in is interrupted by the return of DoctorCoppélius. And trapped in his alcove,she dresses up as Coppélia, pretending to come to life to subsequently teachFranz the follies of his ways, and Doctor Coppélius the errors of his.
The production of Alan Hineline, who, with Max Luna III,serves as BP co-artistic director, intends to "return BP to its classicalroots."
ADVERTISEMENT - CONTINUE READING BELOW
"BP hasn't done [classical pieces] for a whilenow. We wanted to bring back fullyclassical ballet in the Philippines, and Coppélia is good as a start,"said Hineline. "Filipinos love astory, and with Coppélia, the classical piece dubbed as the last balletof the Romantic era, considered as the precursor of modern ballet, this is whatwe intend to draw them in."
Together, the Adea sisters have been performing as companymembers of BP for nine years--five for Carissa and four for Candice. Throughout those nine years, however,"the focus had always been [on non-classical] ballet pieces. So Alan Hineline's Coppelia is, inmost ways, a first for us," Carissa points out.
It is the first full-length piece for Candice to lead, forexample, since "I've had lead dance roles before, but (in the moreimmediate past, BP's productions were limited to short productions andexcerpts), so that this is the first time I'll take the lead of a full lengthballet piece," she said. "This is very challenging, especially since Alan Hineline's Coppeliais not just classical per se. There'salso acting involved, so it's definitely more challenging."
For Hineline and Luna, the goal in planning the BPrepertory, which includes Alan Hineline's Coppelia, was "not just toentertain the Filipino people, but also to educate the BP dancers. And not having done classical [pieces] for awhile, Coppélia is a good entry for the dancers, too. This is important because Coppélia does not only demandfrom the dancers the full use of classical ballet techniques, but, as a comedy,also their comedic acting skills." The BP dancers, nonetheless, "rose up to the challenge presentedthem."
ADVERTISEMENT - CONTINUE READING BELOW
For BP, the other leads are Katherine Trofeo, the Adeasisters as Swanildas, Jayson Pescasio and JM Cordero as Franz.
Although the Adea sisters admit feeling some pressure to doextremely well, there's comfort in having Hineline "provide guidance--youget this chance to do what you usually don't do before), and do the same withthe guidance of doing it the right way," Carissa said. "[Hineline]inspires when he teaches them. Inballet, what you have, that's what you show, nothing else. With (Hineline), you are inspired to pushyour limits; as he doesn't give up on you, you are (pushed) to grow to yourfull potential."
With Alan Hineline's Coppelia, BP will also performfor the first time in 20 years with the Manila Symphony Orchestra, under thebaton of conductor Jeffrey Solares, an important factor since "the successof Coppélia is linked to Léo Delibes' soaring melodic score," Hinelinesaid. "There are aspects that are there when performances are done live,when the music used is not taped. There's that interplay with the performers, and the audiences. [Performing with MSO] is a very specialopportunity is a wonderful holiday gift for our audiences and our dancersalike."
SISTER ACT. Now still only 24 and 21, Carissa and Candice, respectively,are already carving a name in the field they chose to go into: dancing--thanksto Carissa's somewhat accidental discovery of ballet. When she was three years old, their mother took Carissa to herregular aerobic classes, "but I was way too small then to be mingling with[the aerobics attendees], so the secretary of the venue [where the aerobicsclasses were held] recommended I joined the ballet classes, instead. "When told of this, I remember askingif ballet was the activity that involved water, mistaking it for dancing; and Iwas told that, yes, it is, so I danced."
ADVERTISEMENT - CONTINUE READING BELOW
Still not finding that body of water she thought she'd findin learning ballet, the dance has nonetheless, in Carissa's words: "becomean important part of my life, of our lives."


And much like Swanilda's envy of Coppelia, "Istarted ballet when I was four years old, mainly because my older sister wasdoing it," said Candice.
Both eventually ended attending BP's summer workshops, withCandice ending up as a student of the National Arts School in Mount Makiling inthe Province of Laguna.
In 2003, Carissa became a BP company member while Candicejoined a year after.
In Alan Hineline's Coppelia, Clarissa, the moreplayful of the two, wants to add "Filipino touches to the character ofSwanilda." She observes that Filipinos, in general, "can be pilyo(mischievous)--a mischief that Swanilda has in her, so I'd like to play onthat. This, I believe, is a good wayto make her character relatable to Filipinos in the Philippines."
Candice believes that in performing Coppelia, theybring "Filipino-ness in the characters and this is actuallygood." When she performed a scenein Coppelia at the 9th New York International Ballet Competition in theU.S., she made it to the semifinals because of "a more heartfeltperformance."
"I was told that (Filipino performers) are morenatural, thereby more genuine when they wear their emotions on theirsleeves. So, what you see, youfeel," she said. "We hope todo the same in Alan Hineline's Coppelia."
Alan Hineline's Coppelia will be set designed by MioInfante, with the costumes by Eric Pineda, and lighting design by Katsch Catoy.
ADVERTISEMENT - CONTINUE READING BELOW
Coppélia
runs from
December 11-14
at the Cultural Center of the Philippines(Tanghalang Nicanor Abelardo). Forticket information, contact Ticket World: 891-9999; CCP Box Office: 832-3704;or Ballet Philippines: 551-0221/551-1003/832-6011.